A sari or saree is the traditional garment worn by women in the Indian subcontinent. It is the traditional women clothing, not only in India but also in Pakistan, Bangladesh, Sri Lanka and Nepal. In fact, Pakistani sarees are as famous world over as Indian sarees.
What is a Saree?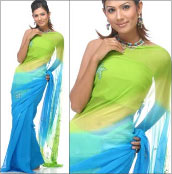 The sari is an unstitched strip of cloth whose approximate length is between 4 to 9 meters and width is about 1.2 meters. However, a saree can be made long or short, wide or narrow according to the wearer's body measurement and the style of wearing. Although there are
different ways of draping sari
, traditionally, it is wrapped around the waist holding one end then draped over the shoulder baring the midriff. Most of the portion of saree is pleated at the waist and then wound round to make a skirt or pair of trousers, with the remaining few yards swept across the upper half of the body, covering at least one shoulder and sometimes veiling the head. It is usually worn over a petticoat. A
saree blouse
, often matching with saree, is worn on upper body which usually has short sleeves and low neck designs.
Types of Indian Sari
The traditional Indian sarees are perhaps the most popular sarees that have even become popular in other countries of the world. However, these are not the only type of saree. There are innumerable sarees in India. In fact, sarees differ in their construction and design from region to region. Sarees shopping is a very tempting hobby of Indian woman. If an average woman of India buys one saree of each type, she can be able to manage a saree gallery in her wardrobe. Over the centuries, saree has become a fashion clothing with unique varieties which can be categorized on the basis of fabric, weaving style, saree designs and occasions on which they are worn. All the regions of India have their unique style of sarees.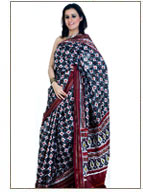 Sarees of West India
The western states of India like Gujarat, Madhya Pradesh and Maharashtra produce all types of sarees- woven,
embroidered sarees
and other fashion sarees with various designs. Some of the famous sarees of west India include:
Sarees of South India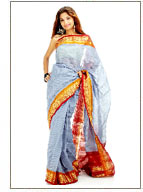 These sarees have simple and ethnic look with rich pallu made in gold and silver zari. The most popular kanjeevaram sarees or kanchipuram sarees are preferred all over India as festival sarees. In fact, they make excellent
wedding sarees
too. The traditional half saree worn by women in South India resembles the lehnga choli of North India. There are many other sarees from south India which include:
Sarees of East India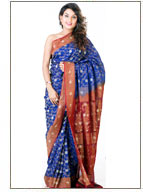 Sarees of East Indian states like West Bengal, Orissa and Assam are famous for their fabulous weaving techniques. These
handloom sarees
are great for summers. The richly worked on baluchari sarees and Muga sarees etc. are excellent choices for
festival sarees
.
Sarees of North India: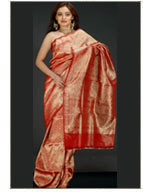 The world famous beautiful banarasi sarees are the specialty sarees of North India. They are till now the favorite
bridal sarees
of the Indian brides. There are other light varieties of sarees too in North India like the Chikan sarees of Lucknow with their exclusive style of embroidery and the bandhani sarees made with tie and dye technique. Some of the famous types of North Indian sarees are:
cotton sarees
,
chiffon sarees
,
silk sarees
etc. They can be further classified according to the occasions like bridal sarees,
regular wear sarees
,
party sarees
etc. When talking about
sarees by design
, the
bollywood sarees
and
designer sarees
top the list which also includes
printed sarees
,
fancy sarees
etc.
Innovations in Sarees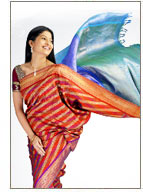 The latest sarees are no more a simple piece of long cloth. Many innovations have been introduced by the saree manufacturing companies, innovative saree designers and the leading brands of Indian sarees. Now you can find
saree-shirt combination
, which is known as 'Jodi Pattu' and have a designed saree with a matching shirt piece, meant for the lady's husband. The
Durbar Krishna saree
developed by RmKV depicts a picture of Lord Krishna in the pallu embellished with Swarowski crystals. Further, there are the
pocket sarees
, having a pocket in it, which can hold essential small sized belongings of the wearer. Then there are
denim sarees
which are esentially soft pure silk sarees but with looks of denim. RmKV's yet another innovative saree- the
reversible sarees
- has four borders, four pallus and two bodies which can be worn in four different ways. The saree comes with two blouse pieces. The RmKV has also introduced the
Zodiac saree collection
- 12 silk sarees having the symbol of a zodiac sign woven into the pallu.
Romantica saree
collection of Sri Kumaran Silks are made of silk, but are stretchable. And now the Indian women don't have to worry about fashion accessories like bags- she just needs to buy the
handbag saree
of Sri Kumaran Silks. It is made of pure silk and comes with a matching handbag. And there are more comfortable sarees- the
pre-stitched sarees
or the ready to wear sarees- these sarees are easy to wear, just like a skirt. In fact, pre stitched saree is a skirt with stitched saree pleats at the centre worn over a petticoat without the fuss of tucking, pleating, and adjusting the pallu length as they are already set in the center to make the wearer feel more comfortable.
Leading Fashion Designers of Indian Sarees