Silk lehenga is an outfit that never goes out of fashion. Silk fabrics is mostly used in Indian wedding lehenga, bridal lehenga.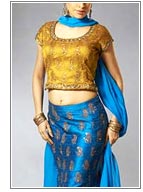 Silk Fabric
Silk, the fabric that makes its own statement. For centuries silk has had a reputation as a luxurious and sensuous fabric, one associated with wealth and success. Silk is one of the oldest textile fibers known to man. Today, silk is yet another word for elegance, and silk garments are prized for their versatility, wearability and comfort. Silk is the strongest natural fiber. Silk absorbs moisture, which makes it cool in the summer and warm in the winter. Because of its high absorbency, it is easily dyed in many deep colors. Silk retains its shape, drapes well, caresses the figure, and shimmers with a luster all its own.
Design
Some famous designs on silk lehengas are:
Silk lehenga choli with bead embroidery
Silk lehenga choli with zori embroidery
Silk lehenga with multi coloured zardosi and stone work
Silk lehenga with mirror work are
Printed silk lehngas

Silk lehengas with patch and applique work
Silk lehengas with thread embroidery
Silk tie and dye lehenga cholis and many more.
Silk lehengas own a special place in medieval as well as modern times. This is a special dress for all occasions, especially party wear. Bridal silk lehengas cholis are a new trend in wedding ceremonies. Silk lehengas can be worn at Eid and other festivals. Owing to its beautiful design and colour, silk lehenga cholis give a sophisticated look.