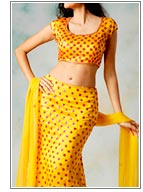 One of the most famous traditional dress of India is lehenga choli or ghagra choli. The Indian lehenga cholis with their glittering mirror work is very attractive and beautiful. These cholis are brightly embroidered, waist-length bare-backed blouses. Ghagras or lehengas are gathered ankle-length skirts secured around the waist. The attire is completed by a
veil-cloth called odhni or dupatta
draped across the neck or over the head.
Lehengas are the ideal wear for any marriage and formal occasions. This garment has undergone some transformation in terms of styles. Wearing of this traditional dress at occasions is the latest trend. There is a tremendous boost
We give an extensive information of Indian Lehengas starting from its origin to different types available.