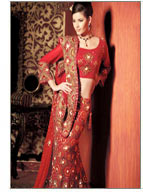 Lehenga is the traditional dress of Indian women mostly worn in North India. It consists of a long skirt type outfit which is worn below waistline; a choli or
blouse
for upper body; and a dupatta. Lehenga is one of the major
bridal wear
of India and Pakistan. The lehnga, also called ghagra, is made in many styles. The choli can also be of varied lengths and designs. When the choli is long enough to cover the upper portion of lehnga, it is termed as kurti. Duppatta is taken in various styles with lehnga- it may or may not cover the head of the wearer.
History of Lehnga Choli
The lenghas and ghagra cholis were brought to India by Mughals. It was the traditional wear of royal women of Mughals. Gradually, the local people of Punjab and surrounding areas adopted the dress and modified it according to their needs. As far as the local trends of wearing ghagra choli is concerned, it relates to the north western states of Rajasthan and Gujarat. The women of Rajasthan, especially the Rajput brides used to wear lehnga choli not only on the occasion of weddings but also as their
casual/regular wear
. The same was true with the women of Gujarat who wore the chaniya choli-a form of lehnga choli- as their daily wear. These Indian lehnga cholis were often in bright colors and embellished with embroidery and other trims like mirrors and beads.
Types of Lehenga Choli
A lehnga choli essentially comprises long skirt, choli and dupatta. Other than this basic feature, this Indian ethnic wear differs in many respects- style, design, fabric and many other parameters.
The famous lehnga choli is the traditional form of this ethnic dress of India. Its various forms are worn at different occasions by the Indian women.
A very vibrant form of lehnga choli popular in Gujarat. It is liked by women of all ages and worn mainly on the occasion of Navaratri while performing 'dandiya raas' dance
A more convenient form of lehnga- the sharara- is divided in two parts just like pants or salwar but due to the voluminous appearance, it looks like a skirt with great circumference.
– Yet another form of lehnga choli has a different type of embroidery or mirror work work done on them. Apart from the above broad categorization of lehngas, they can be further divided into many other categories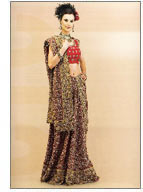 Lehengas by Design
The lehengas are also classified as per the designs. The lehengas are available in various designs from embroidered to traditional prints to designer cuts and bridal lehengas and the bollywood lehengas.
Traditional Lehenga Choli
Designer Lehenga or Ghagra Choli
Embroidered Lehenga Choli
Bollywood Lehenga
Fabrics Used In Indian Lehengas
Silk Lehenga
Cotton Lehenga
Georgette Lehenga
Crepe Lehenga
Net Lehenga
Satin Lehenga
Chiffon Lehenga
Lehengas by Occasion
Bridal Ghagra/Lehenga Choli
Wedding Ghagra/Lehenga Choli
Festival Wear Ghagra Choli
Party Wear Lehenga Choli
Lehenga Styles
A lehnga or ghagra differs from others due to its style. There are many
lehenga styles
that can be selected by different women based on their own body type.
Straight Cut Lehngas
The lehnga has no curves and is cut in straight lines. It can be related to the design of a column dress in a narrow shape which flows straight down to the hem. This lehnga style looks best on lean figures, both short and tall. Sometimes pleats or gatherings are included for the ease of wearer's movements. The bridal lehengas are usually straight cut lehengas.
Fish Cut Lehengas
The mermaid dress style of lehnga clings to the body from the waistline to the knee and then expands outwards giving a flaring effect. The lehnga can be given any shape- round, trumpet or flamenco. The lenghas in fish cut may or may not have fishtails This style best suits the slim and trim body types. The fish cut lehenga is more of bollywood style.
A-line Lehengas
The A-line lehenga fits around the bodice and flows out to the ground just like the letter "A". Fabrics like silk, satin or organza is preferred while making this type of Lehengas. It suits almost all the body types except for women who do not have a defined waistline.
Circular Lehengas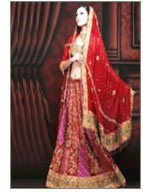 These are the traditional wedding lehengas and give a perfect formal look. They have a very large circumference at the hemline. A number of fabrics like satin or chiffon can be used to make it. These lehengas give the impression of a fairy tale wedding and as they are made with a good amount of fabric, they are ideal for slender or pear-shaped figures.
Kali Ghagras
This typical Rajasthani lehnga style includes panels or 'kalis'prepared from two or more types of fabrics. These kalis are then attached with each other length to length in order to make a lehenga with a good flair. The basics of cutting and sewing such lehengas remain similar to that of a
petticoat
. The difference lies in the choice of decorative fabric and other embellishments like zari work, mirror work, embroidery etc.
Leading Designers of Lehenga Choli
There are leading designers like Manish Malhotra, Ritu Kumar, Ritu Beri, Sabyasachi Mukherjee who are into the making of exquisite collections of Indian lehengas, which are reaching the global market on a great scale.
Manish Malhotra
Ritu Kumar
Ritu Beri
Related Articles
Latest Indian Wedding Bridal Dresses and Indian Wedding Lehenga
Why Silk Bridal Lehengas are Liked by All?