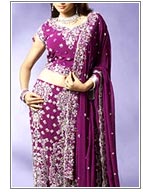 Known by many names ghagra choli, chanya choli, lehenga, lachcha--all meaning a long skirt and blouse to go with it--these have become very popular among the fashion conscious Indian women, expecially for weddings. Lachcha is also one of the most favoured dress for the wedding. A common and popular dress among the Muslim community, now even the Hindu and Christian Community are opting for it as a wedding dress. Lacha, Lachchas with choli are quite common in Punjabi weddings.
Fabric in Lachcha
Lachchas are available in different fabrics like
Silk
Georgette
Crepe
Net
Satin
Brocade
Chiffon
Design
Lacha/Lachchas have different type of work done on them like embroidery or mirror work. Wearing a heavy and trendy lachcha for a big function is catching on now. Most brides wear ghagra for their wedding engagement, mehndi function and the reception. The work that is done on the ghagras or lachchas is elaborate and very intricate, at times. Zardosi, in-laid with stones, antique and gold work or sequins on them form part of the embroidery. When it is a part of a bridal collection there is a lavish use of gold and antique threads.
Convenient to wear, easy to manage even if it is very heavy, colour, craft and custom made are some of the plus points that go in favour of this beautiful and gorgeous attire-- it is a must in a bride's wardrobe.