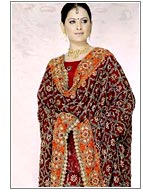 The traditional lehenga choli has undergone tremendous changes in terms of styles, cuts and fabrics. One of the most popular traditional clothing of Indian women is the
lehenga choli
. Infact in many states like Rajasthan, Gujarat, the gharga choli or the lehenga choli is the main item of clothing for women. The Indian lehenga is also a popular bridal wear. Comprising the long skirt, choli and dupatta, the lehenga choli is known by various names according to their style verifications. The market is flooded with different types of lehenga cholis and the types are due to some minor change in the cut of the skirt or the choli. Accordingly, the Indian Lehengas can be divided into following types:
Types of Lehenga Choli
This is the traditional style of lehenga, comprising the Ghagra or the skirt and the traditional choli or blouse and the dupatta.
More...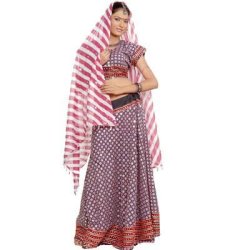 Chaniya choli is very demanding and popular outfit for young girls. This is specially worn in festive seasons in Gujarat. The dress is very colorful with lots of mirror work and embroidery.
More...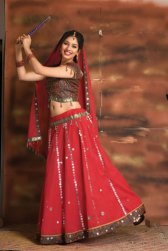 Sharara is another popular type of lehenga choli. The style is different from the traditional ghagra choli. The sharara style has loose flared pajamas instead of the ghagra with a short kurta instead of a choli or blouse.
More...

Lachcha choli is also one of the most favoured dress for Indian women, expecially in wedding and festive occasions. This is the tradtional style of ghagr choli with little chage in the cut of the ghagra.
More...