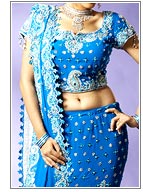 India can be described as a land of festivals as well. Festivals are essential threads woven in the fabric of Indian society. There are special occasions for social get-together with family, friends and neighbours to forge new bonds and strengthen the existing ones. There are probably more festivals and occasions for celebrations than there are days in a year. All these celebrations have religious, seasonal and social elements to them.
There are different dresses for different occasions. Lehenga choli is most popular Indian wedding dress which is also worn at other festive occasions as well. Well known among the Rajhastani, but this outfit has gained popularity and nowadays worn with greater relish and styles all over. Some festivals and celebrations in India which compell an Indian lady to wear a ghagra choli are as follows:
Diwali
This is perhaps the most well-known of all the Indian festivals. The festival of lights enlightens our lives each year with memories of the past and illuminates our future with hope and joy. Ladies wear simple lehenga choli on this day.
Karwa chauth
This is a ritual of fasting observed by married Hindu women seeking the longevity, well-being and prosperity of their husbands. It is popular amongst married women in the northern and western parts of India, especially, Haryana, Punjab, Rajasthan, Uttar Pradesh and Gujarat. This festival comes 9 days before Diwali. On this day, in the evening, women dress up in special clothes, usually a red or pink sari or an intricately embroidered 'lehenga-choli'. Some even wear their bridal costume.
Teez
Teez is a festival to mark the advent of monsoon and celebrated in Rajasthan. Women in Rajasthan dress up in bright coloured ghagra cholis during this festival.
Dandiya
Dandia is the most awaited traditional dance festival in India celebrated very lavishly in Gujarat. It is a must for every Gujarati ladies to wear Ghagra cholis during this festival. Apart from Gujarat, Dandiyas are also performed nowadays in other states & cities like Mumbai.
Eid
Eid is one of the famous fastivals when Muslim women wear this costume.