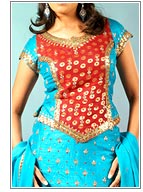 The most famous traditional dress of India is lehenga choli or ghagra choli. The Indian lehenga cholis with their glittering mirror work very attractive. The lehenga choli or ghagra choli is extremely colourful and attractive. The Indian lehenga choli/ghagra choli is usually worn with the 'dupatta' to cover the head and the chest. In India, lehenga choli is also known as lehenga or ghagra chunni or chunri, ghagra chunari, ghagra chunaris and sometimes Lachcha choli.
Wearing of this traditional dress at formal occasions is the latest trend. There is a tremendous boost to the ghagra choli in recent time as a fashion garment. Lehenga is a typical feminine silhouette that epitomizes style, craftsmanship, quality and class of Indian clothing.
Fabric in Indian Lehenga
Silk
Georgette
Crepe
Net
Satin
Brocade
Chiffon
Three parts of Ghagra/Lehenga Choli
Ghagra/Lehenga: These are ankle length long pleated skirts secured around the waist. The skirt is flowing and flares around the wearer.
Choli: The choli or blouse is a snugly fitted piece of clothing that accentuates the female form. The blouses have elaborate mirror work and patch work on them and are very colourful. It is generally designed to leave the back and midriff bare.
Odhi, Chunni, Dupatta: The odhni, the third part of the total garment, acts as a scarf covering the head and body and is a sign of modest shyness for the wearer.
Design and colour
There are ghagra choli of vivid colour contrasts with traditional as well as modern patterns. It is the embroidery and the shape that makes all the difference to the ghagra choli and one can identify it with the occasion it is meant for. Indian market has a wide collection of ghagra/lehenga cholis such as
Designer lehengas
Traditional ghagra cholis
Embroidered lehengas
Hand worked lehengas
Indian bridal lehengas
Even the lehengas are of different shapes such as
Straight cut lehengas
Fish tail lehengas
Mermaid lehengas
Paneled lehngas
Kali ghagras lenghas
Circular lehengas
A-line lehngas
Lehengas with full flair
The Indian Lehenga choli brings out the essence of feminism. Similar to the western skirt and blouse, the ghagra choli's intricate designs create excitement amongst the fashion conscious women. Wearing of lehenga is a fashion with lasting values and rich craftsmanship. It is so much in fashion that it is one of the most favoured dress at beauty pageant contests at national as well as international level.