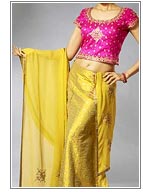 In spite of Western influences on the modern Fashion Industry, the ethnic element and the traditional touch to any Indian Costume is still alive. The traditional look of any garment will never change whatever the fashion is. Today, in the Indian market, we have different varieties of lehenga choli or ghagras starting from heavy embroidered to designer look to fancy choli to ghagra choli exclusive for brides and weddings. Inspite of the emergence of such varieties, the traditional ghagra choli is still popular. Indian lehenga choli helps you to retain the exotic look of the Indian woman.
As is well known, the traditional dress of women in Rajasthan and Gujarat is still the ghagra choli. While the tribal and rural women preferred the embroidered lehenga choli made up of cotton fabric decorated with embroidery and mirror work, women belonging to royal families afford more intricate brocade, tanchoi and heavy satins even with real gold and silver embroidery, studded with precious stones. The length of tribal embroidered lehenga varied between knee to ankle, whereas that of richer people was always long enough to touch the floor as they moved.
Wearing of this traditional dress at occasions is the latest trend. Traditional lehenga choli is worn during wedding, festivals like Navratri, Eid, Dusshera. In wedding seasons this traditional dress has its own significance. The Indian ghagra choli can be worn at main occasions like mehendi, dandiya/sangeet, the wedding ceremony and the reception. The Indian lehenga choli brings out the essence of feminism. Since, the lehenga choli is representative of the traditional Rajasthan/Gujarat style of dressing, when we talk of traditional, nothing is more traditional than the bandhani printed--the tie and dye ghagra cholis. This is immencely popular all throughout. This is mainly of pure cotton. Other fabrics like silk and other man made fabrics are also available. Generally, the blouses have elaborate mirror-work and patch-work on them and are very colorful. Other designs that give a traditional look in a ghagra choli are kalamkari, mangalgiri, maheshwari, ikat and so on. Hand embroidered ghagra choli are also traditional.