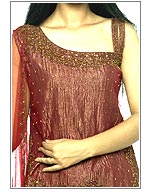 Satin has a luxurious, rich and glossy feel. Generally used as a lining material, satin fabric is also used to make Indian dresses. Indian satin lehenga cholis have become very popular since satin is versatile and can carry considerable embroidery weight. Satin lehenga choli is basically worn by muslim ladies. Satin ghagra cholis are generally of bright colours, specially red and maroon, which are very common.
Satin Fabric
Satin is a cloth that typically has a glossy surface and a dull back. A satin is a warp dominated weaving technique that forms a minimum number of interlacings in a fabric. If a fabric is formed with a satin weave using filament fibers such as silk, nylon, or polyester, the corresponding fabric is termed a "satin."
Design
Various designs available on satin ghagras are as follows:
Satin ghagra with golden hand embroidery on choli.
Satin ghagra with golden zardozi, stones and beads embroidery all over choli and skirt.
Satin ghagra with beautiful resham embroidery.
Satin ghagra with zardozi embroidery on Choli and so on.
Whatever the design, colour of such ghagra choli, the very rich and glossy feel of the fabric make satin ghagra cholis very beautiful and gorgeous.