These are another variety of sarees available in West India. The Embroidered tinsel sarees are made famous by ethnic groups such as rabaris and sodha Rajputs. Embroidered tinsel sarees are very popular because of the interesting texture, the metalic thread and the three dimensional effect that could be created on it.
Designs of Embroidered Tinsel Sarees
These embroidered tinsel sarees are zardozi embroidered, which is the gold gilt thread embroidery technique. Intricate designs in gold and silver, studded with pearls and precious stones enhanced the beauty of rich and glowing silk, and brocade saree.
Other cheaper variations in metallic embroidery are the Balla tinsel and khari works. The saree with Balla tinsel and khari works have also become quite popular.
There are also bridal sarees from Rajasthan with elaborate tinsel embroidered designs in vibrant shades. Designs can be ethnic or modern.
Tinsel embroidery sarees impart richness of color as well as design
Nowadays, synthetic gold-coloured paints, mica and other shiny particles are used to create tinsel sarees.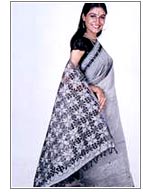 embroidered Tinsel Saree
Embroidered Tinsel Sarees Demand
The embroidered tinsel sarees produced by the Indian weavers display immense creativity. Using the contemporary methods of designing, the traditional designs have further been modified to give a designer touch to these sarees. There are sarees decorated with gold or silver dust, giving them a royal status. These sarees are very popular in tinsel town. Whether it is the design, color, or the draping styles, tinsel embroidered sarees are forever in rage among Indian women. These sarees are preferred to be worn in occasions like fancy parties, anniversaries, get togethers, college meet etc.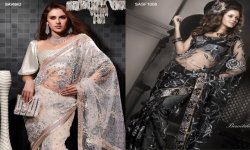 Are you Looking for Embroidered Tinsel Sarees? Send ONLINE ENQUIRY for wholesale purchase of Tinsel Sarees, Embroidered Tinsle Saris, Indian Tinsel Saris