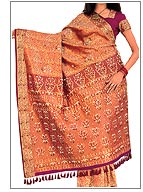 Gujarati brocade sarees are interwoven with rich, raised design. These saree are very expensive and have also become very rare. The state of Gujarat in India, also known as the "Manchester Of the East", has a rich heritage of textile crafts, one popular among them is the Brocade Saree.
Distinguishing Features of Gujarati Brocade Sarees
There are two main distinguishing characteristics of the Gujarati Brocade Sari:
Butis (circular designs) woven into the field in the warp direction instead of the weft, resulting in their lying horizontally instead of vertically on the sari when draped.
Floral designs woven in coloured silk, against a golden (woven zari) ground fabric. Although such 'inlay' work is a common feature in many western Deccan silks, the Gujarati work usually has leaves, flowers and stems outlined by a fine dark line.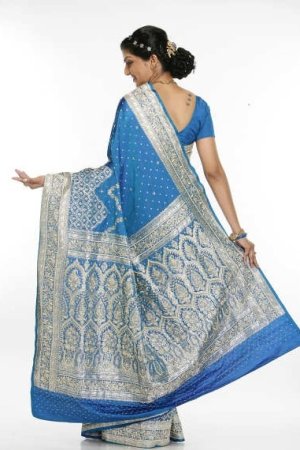 Gujarat Brocade Saree
Fabric and Design in Gujarati Brocade Sarees
Brocade is a kind of silk fabric which is very thick and heavy and raised designs are woven in it. The Asavali saris are the famous Gujarati brocade sarees that had rich brocaded patterns woven in twill weave, a speciality of the area. Intricately woven silken patterns were embedded into the gold surface in variety of colours and were known as
meenakari
, imitating the enamel work prepared on jewellery. The Gujarati brocade saree is also one of the famous sarees from Gujarat. In this saree, designs are woven in colored silk on a golden background. Motifs such as leaves, flowers, fruits, birds, figures of dancing women and women waving fans are woven in such sarees. These sarees are highly expensive as they are exquisitely woven.

Are you Looking for Gujarati Brocade Sarees? Send ONLINE ENQUIRY for wholesale purchase of Gujarati Brocade Sarees, Brocade Saris, Indian Brocade Saris