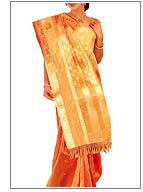 Tissue sarees are the well-known sarees of North India, usually woven with the finest silk thread. These sarees are very comfortable to wear and are of light weight and have never gone out of style. Preferred for both formal and casual occasions, tissue sarees for women are available in a wide variety of colors, prints and designs.
Fabric in Tissue Saree
Surprisingly affordable and easily maintained, Tissue is woven of 100% polyester or poly cotton. The saree is moderately wrinkle resistant, and is machine washable or dry cleanable. This ofcourse depends on color and trim combinations. Tissue offers the ultimate in draping qualities and sumptuous texture. This top quality silky faille weave brings an elegant gracefulness to a saree. There are silk tissue as well as cotton tissue sarees. Cotton tissue sarees are ideal for summer. Tissue silk is a very fine quality silk fabric. It is a very shiny and gorgeous fabric. Tissue silk saree can be both simple and gorgeous depending on the occasion in which it is worn.
Glass Tissue Sarees
Glass Tissue Sarees are well liked by Indian women of all ages. Glass tissue is a fabric known for its rich sheen and fancy look. The glass tissue sarees are hot faborite among women on special occasions and festivals. Because they look good and are easy to carry, these type of sarees are preferred by women a lot. Unlike heavy traditional silk and kanjeevarams, glass tissue is a very lightweight fabric making it a popular choice amongst young ladies. Glass tissue sarees are suitable for all seasons.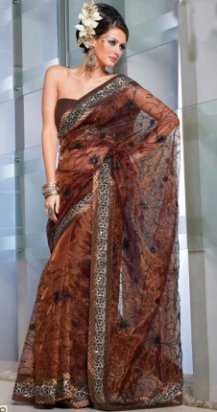 Glass Tissue Saree
Designs and Motifs in Tissue Saris
These sarees come in various colours. There are some sarees with vibrant color combination in the body and the pallu with floral patterns like creepers, zig-zag pattern, simple stribes, dotted prints or any other abstract designs. There are tissue silk sarees with beautiful brocade work done at the time of weaving the saree. The anchal and border with floral motifs blends the classic and contemporary weaving in jamdani style. There are tie and dye tissue silk saree with silver or gold or multicoloured thread work. Geometrical and floral patterns in brocade work with jamdani style weaving on all over the body. The heavy tissue sari is adorned with kundan, sequins, resham zardosi & zari hand embroidery, giving it a rich and ornate look. Each tissue saree is an individual work of art, designed keeping in mind the demands of the customers. The flawless designs available in these sarees give the wearer an unique look.