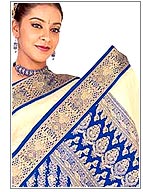 The Chikan Saree of Lucknow is perhaps one of the most popular embroidered saree in India. It has a certain grace and elegance, which ensures that it never goes out of style.
Chikan is a traditional embroidery style. It is a form of hand embroidery with pattern, of predominantly different designs, stitched using untwisted white cotton or silk (and now rayon) threads on the surface of the fabric. It is said to have been originally introduced by Nur Jahan, the beautiful wife of the Mughal emperor, Jahangir. It has since evolved and attained its glory and perfection in Lucknow, Uttar Pradesh. Chikan Sarees are perfect for any kind of regular occasion. Chikan sarees are simple but give a classy look to anyone who wears it.
Fabric in Chikan Saree
Cotton
Chiffon
Georgette
Crepe
Silk
Rayon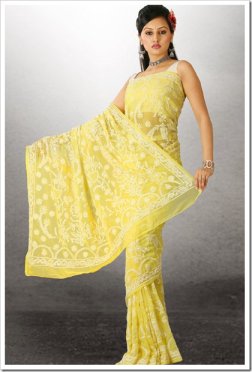 Colours of Chikan Sarees
Generally, the sarees are light earth colours and pastel shades. Traditionally, the threads used are in the same colour as the fabric. The self color embroidery looks rich on every age group and color. Nowadays, you also have chikan sarees with contrast colours in the body and the embroidery.
Designs of Indian Chikan Sarees
Patterns and effects created depend on types of stitches used and the thickness of the threads used in embroidery. The variety of stitches used are back-stitch, chain stitch and hemstitch. The major type of Chikan work done today are Taipchi, Bakhia, Phanda, Murri, Jali, Hatkati, Pechni, Ghas Patti, Chaana Pati etc. The chikan embroidered sarees with their incredible embroidered patterns are collector's items.

Are you looking for Chikan Sarees? Send online enquiry for wholesale purchase of Chikan sarees, chikan saree for women, chikan embroidered sarees, chikan indian saree, chikan cotton saree, traditional chikan sarees