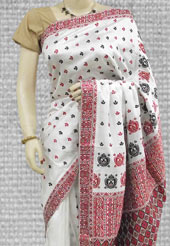 Pat Sarees are another type of sarees produced only in Assam like
Muga Sarees
. Though, the traditional dress of Assam, the Mekhala Chaddar is made of Pat silk, nowadays, pat silk fabric is also used for making sarees to cater to the demands of the customers all over the world. The pat silk sari of Assam is famous for its regal appeal. The shining cream and white colour of this saree imparts an elevated feeling. The Paat sarees are considered most suitable for all special occasions by Assamese ladies. These Assam pat silk sarees are exported world over and their popularity is increasing, thanks to the large Assamese community living outside the country.
What is Pat Silk?
These sarees are woven in silk fabric called Pat silk. Paat silk is a variant of the Muga silk. This fabric is one of the world treasures of fine silk fabrics. It is raised, reeled or spun and woven on a village scale in only this one area of India. Assam is renowned all over the world for this indigenous silk. The silkworms used for producing Pat silk are raised on the leaves of mulberry plants. Due to this reason the silk is also nicknamed Mulberry silk. Pat silk is considered one of the best in the world and is in great demand among the fashion-conscious, and the people opting for traditional attire.
Colours of Pat Sarees
Since mulberry silk unlike
muga silk
can be bleached and dyed, we get Pat sarees in different vibrant colours. But the traditional colour is white or cream. The white color of this material indicates the purity.

Pat Saree Colours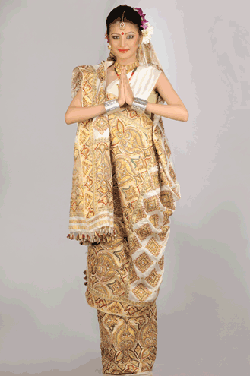 Traditiona Assam Pat Silk Saree
Designs and Motifs of Assam Pat Silk Saris
Various motifs, butis are knitted or woven on the sari and its border. Each ethnic group of the State has its own distinctive design and style. The motifs used in these sarees are mostly ethnic symbols of
creepers
flowers
birds
channels
animals
human figures
cross borders
the galaxy and
ornamental designs.
Wedding mekhala chaddars are very gorgeous with gold or silver work woven all over the body done with muga silk or gold and silver wire called guna. These hand woven heavy gold pat silk sarees with motifs give a in a three-dimensional effect which makes the saree all the more attractive.These pat sarees give a sophisticated look to every lady because of its unique design and softness. Today Assam Pat Silk Saris are demnded world over.

Assam Pat Saree Collection
Are you looking for Pat Saris? Send Online Enquiry for Wholesale Purchase of Pat Sarees, Pat Silk Sarees, Pat Sarees for Women, Assam Pat Silk Saree