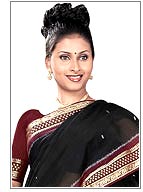 Pochampally sarees are the famous sarees woven in Pochampally, a small town in Andhra Pradesh. Pochampally saree is the one of the most well known brands among South Indian Sarees because of its high quality fabric, beautiful ikat designs and durability. These sarees are world famous because of their unique design and colour combination.
Fabrics in Pocahmpalli Sareees
The saree is woven in hand woven cotton and silk fabric. Pochampally ikats can be differentiated from their counterparts in Orissa (ikat saree) by their feel. Pochampally cloth is smoother than the flannelly Orissa cloth and not quite as heavy. They are woven in silk, cotton and silk-cotton mixes.
The Process of Making Pochampalli Sarees
There are about 5000 handloom weavers in Pochampally who create sarees in traditional ikat work. This saree is known for its unique design. The ikat weaves involve the yarn being dyed first, with each strand dyed on the basis of the final pattern that has been decided. This means that everything has to be very precise and requires the skills of true artists. This method is very similar to the tie-and-dye method, the real difference being that here the yarn is dyed before weaving a rather complex procedure.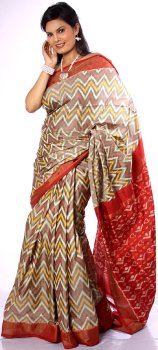 Pochampalli Saree
Pochampalli Sari Designs and Colours
One of the reasons why pochampally sarees have become very popular worldwide because the weavers use modern synthetic colorful threads instead of the expensive vegetable dyes for dying, thereby not only bringing down the cost of production, but also getting a chance to be more creative by trying out complex designs. Since the 1960s pochampally ikat-weavers were influenced by the patola designs of Gujarat. Modern ikats of Andhra Pradesh, which are simple and use at the most three colors and purely geometrical designs, are of good quality and sell competitively.
The saree has Ikat bands in the endpiece. The patterns of these sarees have undergone changes in recent times, with the characteristic features of big, bold and bright patterning. The weavers are creating modern motifs, abstract patterns, geometric shapes in these sarees with plenty of brilliant colours to give a modern touch. The most modern Pochampalli Ikat designs are vibrantly coloured. The modern designs in these sarees also follow the traditional style of wide plain borders, and a field covered with Ikat-created designs.
Pochampally Saree Popularity
The famous Pochampally ikat tie-and-dye saree has won Intellectual Property Rights protection. It is the first traditional Indian craft to receive this status of geographical branding. The design won protection in the Geographical Indications category. This will protect the pochampally handloom saree from unfair competition and counterfeit. The Pochampally sarees have a good market in India and abroad. The weavers are using modern synthetic colours and creating attractive designs that are typical of the saree tradition.

Are you Looking for Pochampalli Sarees? Send ONLINE ENQUIRY for wholesale purchase of Pochampalli Sarees, Pochampalli Ikat Saris, Ethnic Pochampalli Sarees, Pocahmpalli Silk Sarees