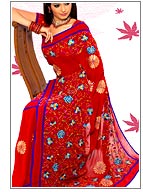 One of the most prominent methods to decorate any fabric is to get them printed. Printed Sarees have won lot of appreciation in the fashion market. Available in various styles, patterns and colors, the printed saree is soft and classy in looks. Printed sarees give an attractive look to anyone who wears it. Printed sarees are suitable for all kinds of occasions.
Fabric in Printed Saree
Printed sarees generally look good in the following types of fabric
Cotton
Silk
Georgette
Chiffon
Crepe
Handloom etc.
Design
Printed sarees have a lot of interesting patterns like
Floral
Animal
Geometrical
Abstract prints
Ornamental designs

Patola print
Polka dot print
Kantha print
Jaal printed
Meenakari printing
Tye and dye prints like Bandhej, Bandani, Lehriya, Batik and so on.
Various methods of printing like direct printing, resist printing and screen-printing are practiced in India. In a method called Kalamkari, the cloth is painted by using a pen with dyes and mordants. This method is widely popular. The discrete art that is visible in the Kalamkari print sarees is the art found nowhere else but in India.
Printed sarees can also have these popular and classic designs with an array of detail work like embroidery, patti, mirror, zori and sequins work. Some states have developed its own motifs for printed saris, based on the folk tradition of the area as well as its textile weaves. Delicate prints on a printed sari, gives a delicate look.