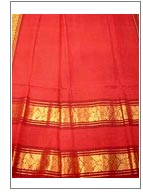 Gadwal sarees are the famous sarees of Andhra Pradesh made in a style influenced by the Banarasi weaves. The Gadwal sarees with lavish design in pallu make them beautiful and rich looking sarees befitting for any festive celebration.
Fabric in Gadwal Saree
Gadwal saree is made in cotton. While the ground of the saree is cotton, there is a loosely attached silk border.
Colour
Traditional colours for these sarees are earth shades of browns, greys and off-whites. However, brighter shades have been introduced for the North Indian buyer.
The Process
The most distinctive aspect of the Gadwal saree (and the one most difficult to do) is where the silk pallu is joined to the cotton body - this is called 'doing the kechchu' - back-breaking work that involves long hours of work and is invariably done by women.
Design
Copper or gold-dipped zari is generally used in these sarees.
The motifs of the murrugan (peacock) and the rudraksh are popular.
There can be mango design buttis all over body enriched by a dark contrast colour pallu having intricate geometric pattern zari design and rich zari work border too.
There can also be self stripes design in body with zari buttis all over enriched by a printed pattern work.
Floral designer zari buttis and zigzag pattern zari work all over body are also popular.
The silk cotton mix look in the Gadwal saree give the saree its unique charm and elegance.