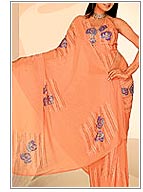 Chiffon saree is yet another saree that makes an elegant wear both for everyday wear and evening wear. These are very fine graceful sarees for every occasion. The chiffon fabric is widely used in Indian fashionable sarees.
Chiffon Fabric
Chiffon is a plain-weave, lightweight, sheer, transparent fabric made of cotton, silk or synthetic fiber; it is made of fine, highly twisted, strong yarn. Chiffon is difficult to handle, but it drapes and wears well and is very durable despite its light weight. The famous product of its fabric is chiffon saree.
Design and Colour
Chiffon sarees come in variety of colours and designs. The most popular ones are the printed ones with eye catching designs and traditional patterns. Bandhini prints based on ancient regional Indian design are used on chiffon sarees. Hand block prints are also very popular. Resham work and gold embroidery looks fabulous in chiffon sarees.
The Indian chiffon saree excites everyone. Even the self coloured plain ones are attractive. Chiffon sarees are a symbol of elegance and firmness.