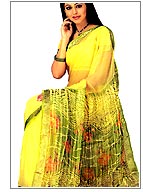 Crepe sarees are suitable for formal get together and parties. You can wear crepe sarees for any occasion but in summer wedding crepe saree gives a modern look. Crepe sarees make a woman look and feel attractive. The summer friendly fabrics like georgette sarees, lovely chiffon sarees and crepe sarees are very sober sarees. Different colors make these crepe sarees exciting.
Crepe Fabric
Crepe is a thin fabric of crinkled texture, woven originally in silk but now available in all major fibers. Silk crepe is a classic soft fabric with good drape characteristics.
Colour and Design
Crepe sarees come in variety of colours and designs. The printed crepe sarees are very popular. Crepe sarees with resham work done on them increases the beauty of a lady. Gold metallic embroidery increases the look of a crepe saree. The collection of traditional, printed and embroidered fancy saris made from imported and Indian fabric including georgette and crepes are a hit among the fashion conscious women of today.