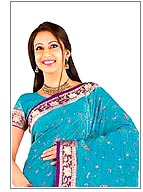 The Indian Sari in Cotton gives a pure relaxing comfort. Cotton Sarees are the most favoured sarees for Indian Women. You can use cotton sari in daily wear especially during summer season. Cotton sarees can be worn at festive as well as daily wear. Cotton sari is worn at holi, diwali, dussehra, lohri, baisakhi and all the other festivals. Cotton sarees are also office wear sarees, worn by teachers while going to schools/colleges, lady doctors and housewives in their daily wear.
The Indian subcontinent is the home for the Cotton crop. The art of weaving and dyeing of cotton was known in India some 5000 years ago. Every state has its own traditional cotton weaving tradition. Every state of India has its own indigenous speciality in cotton fabric, each different in weaves, textures, motifs, printing techniques and colours.
The famous cotton sarees region wise are as follows:
The jamdani cotton sarees from West Bengal and Uttar Pradesh are popular and they follow the traditional patterns.


We have the Sambalpuri, Bomkai and Vichitrapuri cotton saris of Orissa. These sari come in a variety of colours and traditional motifs inspired by nature.


Chanderi Sarees in Madhya Pradesh are fine cotton sari with a silk warp and cotton weft.


Maheshwari sarees of Madhya Pradesh are either pure cottons or silk/cotton mix, with check patterns being the specialty.


The city of Hyderabad is known for its ancient cotton weaving tradition. The Venkatgiri fine cotton saris are produced here, which are ideal for summers. These sarees are mainly in off-white colour and decorated with dull golden motifs.


Nander in Andhra Pradesh is famous for its fine quality cotton sari richly worked in gold thread with silk border.


Pochampalli sarees of Andhra Pradesh are woven with the ikat patterns, where the yarn is pre dyed based on pattern before weaving.


In Tamilnadu, the cotton sari patterns closely resemble the silk ones. The important centers like Kanjeevaram, Salem, Pudukottai and Madurai. These centres in the South are famous for cotton weaves with motifs & checks laid on the body. The border & pallav are worked with thread or zari weaves.


Kerala has started weaving cotton sarees of late. Its specialty is the Karalkudi sarees of unbleached cotton with rich broad gold borders and pallus.


We also have the tie and dye cotton sarees from Rajasthan and Gujarat. Women folk painstakingly create these colorful saris, tying every single thread manually and then dying in vibrant and bright colors.


There are also other cotton sarees like the Ikat sarees of Karnataka and the Narayanpet sarees of Andhra Pradesh etc.
Beside the region wise cotton sarees, we also have other varieties of cotton sarees like Handloom cotton saree, printed cotton saree, cotton sarees with embroidery and Zari work. Apart from traditional and contemporary collections of saris for middle and old-aged women, trendy sarees for youngsters are available in the Indian Market.
We also have handloom khadi sarees. The traditional Indian cotton weaving revolves around 'Khadi'. Khadi is a cloth woven by hand using handspun yarn only. Handlooms producing Khadi weave cotton in such a way that the interlacing of threads provides maximum passage of air to the body, thus creating a cooling effect, making Khadi an ideal summer wear. Different colors make these cotton sarees exciting. Cotton sarees give a sophisticated, feminine, graceful and elegant look to any lady.