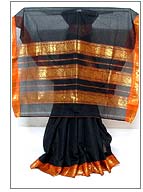 Chettinad is a small town in southern Tamil Nadu state and it is well known for its sarees. Chettinad sarees are a prized possession of every south Indian lady. These sarees have a simple and ethnic look which can be worn for all occasions.
Weaving cotton sarees has long been an occupation here. Sari weavers in Chettinad design the traditional chettinad cotton and silk sarees in contemporary colour.
Today a few entrepreneurs have undertaken to preserve traditional designs, and have given new life to it by mixing silk with cotton, giving the Chettinad sari designer status. Work is being done to revive conventional designs.