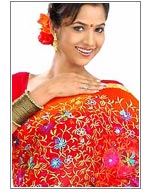 Embroidered sarees are famous for their royal look and rich feel. Indian embroidered saree comes in different styles and designs. Embroidered Indian sarees in resham, gota patti, zari, gold & silver threads work give a collection of embroidered fancy sarees which are preferred for wedding and any formal occasion. The simple thread embroidered sarees are also popular. Any saree whether silk, crepe, cotton, georgettee gets an enhanced look with embroidery.
The highlight of the embroidered sari is vibrant colour contrasts, rich patterns and sparkling mirror work.
There are many different types of embroidery, each with their own characteristics and methods. Each state of our country is a specialist in its own kind of embroidery. There is some cross over between styles, but each style has distinctive methods, stitches and colours from which it can be recognised.
For example:
The floss silk thread used to create motifs of flowers is the main highlight of 'phulkari' embroidery on these Indian ethnic saris, popular in Punjab.


'Chikan' work of Lucknow (Uttar Pradesh) is characterised by the delicate embroidery in white threads either in cotton or in silk.


'Zardozi' of Varanasi (Uttar Pradesh) is worked in gold thread.


The threads from the old saree borders have created the beautiful 'Kantha' work of West Bengal.


Fine quality gold thread 'zari' embroidery is found in Bareilly, Benaras (Varanasi), Lucknow and Agra. These days silver zari is equally popular.


Resham embroidered sarees are also very popular.


There are sarees having intricate and heavy embroidery in sequins and dabka work.


We also have the gota patti and kundan work embroidery.
Whatever the design, style or colour of these embroidered sarees, it is a known fact that these sarees are always gorgeous and reflect richness and beauty.