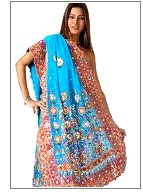 India can be described as a land of festivals as well. Festivals are essential threads woven in the fabric of Indian society. There are special occasions for social get-together with family, friends and neighbours to forge new bonds and strengthen the existing ones. There are probably more festivals and occasions for celebrations than there are days in a year. All these celebrations have religious, seasonal and social elements to them.
Indian women prefer to wear new sarees on any festival. Some festivals and celebrations in India which compell an Indian lady to wear a festival saree are as follows:
Diwali
This is perhaps the most well-known of all the Indian festivals. Indian ladies, expecially in the north, wear exclusive new sarees that are embroidered with gold on this day to worship Lakshmi, the goddess of wealth.
Durga Puja
The worship of Durga is the year's most major festival in Bengal, Orissa, Assam and Tripura. Bengali ladies always wear new traditional sarees, expecially the ones with red border, on Durga puja.
Karwa Chauth
Indian ladies wear heavy embroidered sarees on this day. Some even wear their bridal saree.
Ganpati Festival
Ganpati festival is celebrated with great zeal and enthusiasm in Maharashtra. Maharashtrian ladies perform puja wearing traditional sarees like paithani and other silk sarees.
Pongal
Pongal is celebrated as a new year in the South and hence women in the South wear their traditional saree of white or cream colour with gold border.
Bihu
It is a must for all Assamese ladies to wear a new muga or pat Mekhala Chaddar, their traditional saree, to celebrate Bihu.
Besides the traditional festivals, there are other occasions where saree is the favoured outfit. There are special Sarees for happy occasions. On the birth of a new baby or the wedding of a relative, ladies wear brocade and festival sarees. There are Fancy festival sarees for different occasions such as navratri, dandiya, garba, Teez and many more. All these add glamour to the festive season.