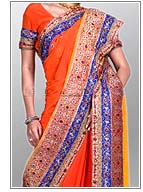 When we talk of parties, there are birthday parties, marriage, marriage anniversaries, kitty parties, official parties, family get togethers and so on. Indians celebrate any kind of festive occasion with great zeal and enthusiam. In any occasion, every one wants to look their best.
Though, there is emergence of variety of dresses both Indian and Western in the market, Indian ladies still prefer to wear a saree in such occasions. Keeping in mind, the exclusivity that a woman wishes to present, in each party she attends, sarees in the Indian market are available in an affordable range, yet in an attractive manner, to ensure parties turn out to be the most enjoyed ever.
Various Party Sarees are:
Traditional Indian Saree like silk saree, pure silk saree, mysore silk sarees, patola silk saree, chanderi sarees, paithani sarees and so on. However, if it is not a marriage party, then indian women won't go for the heavy designs in these sarees but go for soft colours with light design.


There are Fancy, inexpensive party wear sarees styled in accordance to various popular Bollywood movies portraying the rich and royal look of handwork that include Resham, Sequins and Stone work.


Printed chiffon sarees with little sequins work is essentially a party saree.


Colourful georgettes and crepes with various patterns are also party sarees.


Designer Sarees.


Some Indian ladies also go for fine cotton printed sarees to present a elegant and graceful look expecially in an official party.
Whatever the saree, drape them in style and walk with pride to your parties!