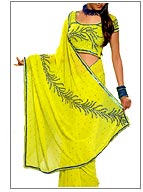 The look of sari is changing. In a decided shift from its graceful, elegant image, the sari is now fun, providing enough length in its 6 yards for the wearer and designer to experiment freely. Designer sarees have become very popular nowadays. Manufactures of the latest designer sarees are using different types of fabrics and designs to make this ethnic Indian attire look gorgeous and different.
Indian Designer sarees are basically for formal occasions, weddings and marriages. Designer sarees are not any region or style specific. Any type of saree whether embroidered, printed, silk or cotton can be given a designer look to distinguish it from other regular sarees.
Not surprisingly, then most designers choose to include the sari in their collections every year. Various Indian designers have come with innovative designs for designer sarees. For example:
The leading brand in the world of Indian Saree fashion, Satya Paul is well known for its exclusive printed sarees, embroidered saris and designer sarees.


The exclusive sarees in Neeta Lulla collection, who designed costumes for bollywood, were outstanding, with beautiful colour contrasts and elaborate sequin and bead work, sometimes on the pleats or along the border and sometimes running through the middle of the pallav or all over the saree.


Another innovation gaining ground is the deconstructed saree. Designers like Suneet Verma and Tarun Tahiliani are cutting it into two and draping it over embroidered petticoats, which can be proudly flaunted with matching cholis or jackets.


Ravi Bajaj walks his own course with a preference for creating innovative cuts and colour combinations. While Bajaj prefers to stay away from Indian silhouettes like the ghagra and salwar suit, he has an ongoing romance with the saree. Brilliantly coloured sarees formed an important part of his collection.


Malini Ramani showed shaded diva saris with prints as varied as Moghul vases, maps of India and the Indian paisley motif. Net ruffles made an appearance on the edges giving the sari a dress-like flounce and so on.


The material used for the
designer sarees
is flowing and graceful. Georgettes, crepes and silks form the basis for most of their creations. Various sarees that fall into designer category areas follows:
Designer Indian sarees have beads, khadanas, zardosi, zari, crystals, kundans and a variety of other works.


Computer embroidery, with a touch of handwork, is also done.


There are designer sarees with rich traditional chikan embroidery in colored thread all over.


Designers transforms traditional saris into contemporary wear. They do so by doing a bit of appliqué work, Kashmiri embroidery or even hand embroidery. For instance, a conventional Kanjeevaram sari gains an all-new look when contrast thread work is done on its border, pallu and has unique-looking "buttas" on the body.


Designer fashion saree can have jardosi hand embroidered saree with georgette saree in sequence & thread.


Designer silk sarees are a new trend in the fashion and is a gorgeous saree.


All bollywood sarees worn by our beautiful actresses are designer sarees-the list is is endless.
Designer sarees have become very popular among the ladies in India who belong to the elite class and have a great sense of wearing the best.