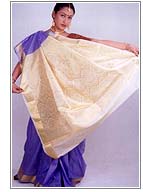 The konrad sarees are another famous type of sarees of Tamil Nadu. These sarees are simple, yet classy and ethnic and can be worn in any occasion. Another name of this saree is Temple saree. Originally these sarees were woven for temple deities and hence the name Temple Saree.
Design and Colour
One of the distinguishing look of this saree is that it always has wide border.


Wedding related motifs such as elephants and peacocks, symbolising water, fertility and fecundity are very popular.


These sarees have generally very light coloured earth shades of browns, greys and off-whites. However, nowadays brighter shades have been introduced for the North Indian buyers.


These sarees nowadays also have exotic motifs done in zari and pleasant colors, both inspired by nature.
Worn by both young and old, this is one of the most favoured saree to be worn by South Indian ladies in any semi-formal, formal or regular occasion.