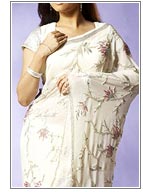 Another variety of saree avaible in Orissa is the Bomkai saree. Produced in a small town called Bomkai in Orissa, these sarees also have touches of ikat work, like the Sambalpuri sarees.
Fabric in Bomkai Saree
Both cotton and silk fabric are used in making Bomkai sarees. For regular wear, cotton bomkai is favoured. A Bomkai Cotton Saree is also an excellent choice for any religious function. Bomkai Silk Sarees are generally worn in formal and semi formal occasions.
Design and Colours
There are Bomkai sarees with elegant designs, enchanting colors for the exclusive women. Some Bomkai saree have small fishes woven onto the border. Fish symbolizes prosperity and good health. Bomkai sarees feature threadwork ornament borders and pallu. East Indian ladies love to wear Bomkai sarees for their traditional tribal look, as well as their understated and elegant color pallette. A combination of ikat and Bomkai is very unique.