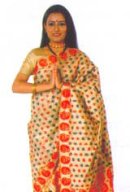 Muga sarees are the famous silk sarees produced only in Assam. Though the traditional dress of Assamese ladies is Mekhala Chaddar-a saree in two piece, they also wear sarees nowadays for any kind of formal occasions. Muga sarees are not only elegant and beautiful but they also have ample strength and durability.
Muga Silk
Muga sarees are woven in muga silk, which is available only in Assam throughout the world. The pride of India, muga silk is known for its natural shimmering golden colour. The most expensive of silks, muga is an integral part of the tradition and culture of Assam. This fabric is one of the world treasures of fine silk fabrics.
Colour
The body of the Muga silk saree have just one colour- a natural shimmery golden beige colour. The golden colour of this rare and exotic silk saree needs no dye to enhance its exquisite beauty. It has the natural quality of appearing almost like spun-gold.
The motifs and designs woven on the body have the traditional colours like red, green and black which provide a dramatic effect against the golden colour of the Muga fabric. The weavers have extended them to include colours like yellow, green, blue, beige, silver, coppery pink, brown etc.
Design
Various motifs, butis are knitted or woven on the saree and its border. Each ethnic group of the State has its own distinctive design and style. The motifs used in these sarees are mostly traditional symbols of
animals
human figures
creepers
flowers
birds
channels
cross borders
the galaxy and
ornamental designs.
Wedding makhala chaddars are adorned with gold and silver thread work. These hand woven heavy gold silk sarees with motifs stand out in a three-dimensional effect which give an exclusive and attractive look.