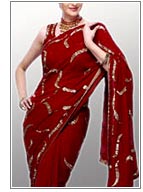 Jamdani sarees are much sought after by fashion-conscious working women for their elegance, comfort and light weight. Bengal is a large hub of jamdani sarees suppliers and different kind of jamdani sarees.
Fabric in Jamdani Saree
Jamdani is an ancient finely woven cotton fabric called muslin with geometric or floral designs. Jamdani sarees are in cotton, pure silk and tussar silk.
Colour
While the original Bangladeshi sari is almost invariably on a beige background, the Indian weavers are a little more adventurous in their choice of color schemes. A very classy look pervades in the traditional colour.
Various types of Jamdani Sarees
:
Daccai Jamdani
Daccai Jamdani sarees are distint from other varieties by its very fine texture resembling muslin and the elaborate and ornate workmanship. These sarees have multicolored linear or floral motifs all over the body and border and have an exquisitely designed elaborate pallu. The mango motif signifying fertility, growth, and marital bliss is a very popular design in Jamdani sarees.
Tangail Jamdani
These sarees have Jamdani motifs on Tangail fabric and hence known as Tangail Jamdani. The traditional tangail borders had a "paddo" or lotus pattern, "pradeep' or lamp pattern, apart from the popular "aansh paar' which was common to Shantipur. From the use of a single colour on the border, they began to use 2 to three colours to give it 'meenakari' effect.
Shantipur Jamdani
This variety of sarees have a powder fine texture.
Dhaniakhali Jamdani
Having a tighter weave than the "tangail" or "shantipur", Dhaniakhali Jamdani is more hardy. Its bold body colours and contrasting borders and absurdly low prices make them very affordable.