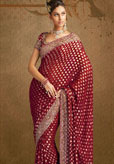 Sari has been and still is an essential part of the wardrobe of any Indian woman. Women of India have adopted many foreign clothing. The best example is that of
salwar kameez
, which was brought here by Mughals, many hundreds years ago. Then came Britishers who brought with them western outfits like pants,
skirts and shirts
. Indian woman adopted all of them. However, saree remains the favorite attire of any Indian woman. Howsoever modern she might be, her wardrobe remains incomplete without a collection of various
Indian sarees
. Each of these sarees have to be selected keeping in view many factors.
How to Buy Sarees?
Before going on to know some tips on buying saree, it should be well understood that the Indian collection demands a variety of sarees according to occasions, seasons and festivals. Therefore, one must always try to include more than one type of saree in her wardrobe so that she may not feel left out when going to a particular occasion.
Additional Tips for Buying Sarees
Apart from fabrics and designs, one must also keep some other factors in mind while buying a saree.
Always ensure yourself about the optimum length of a saree. Shorter sarees can not make enough pleats which in turn do not grant the so much appreciated grace of a saree. The average length of a sari is 5.5 m, and its width is approximately 1.5 m. If you are very tall, choose a saree that is more wider. If you want to have more pleats or you will drape the saree in a special way (like in marathi way of draping saree which needs more wrapping around) then go for lengthier sarees. In fact, some sarees of west India, like the paithani sarees are upto 8 m long.
If you buy a saree that contains extra cloth for making a blouse, always ensure to measure the saree's length after deducting at least one meter cloth from it.
When buying embroidered sarees, see there are no broken threads in between.