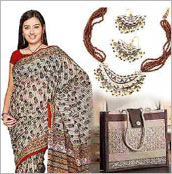 A saree is a great Indian wear. There are many
Indian sarees
that are worn as daily wear and on special occasions. However, the full grace of saree can be brought out with right
Indian fashion accessories
only. There are certain unwritten rules for matching accessories with sarees. The fashion accessory that go with
casual/regular wear sarees
don't look good with
party sarees
. So how to wear fashion accessories with sarees? Here are certain tips for wearing the right fashion accessory with the right saree.
Blouse
Blouse is not a fashion accessory but one of the two most essential accessories (other one being petticoat). A saree is incomplete without a matching
blouse
. When wearing a casual saree, you can always get a plain blouse made up of some comfortable fabric. It can be a cotton blouse or a silk blouse but keep the fact in mind that a cotton blouse will not go with silk saree and vice versa. When you buy some expensive party wear saree like
kanjeevaram sarees
or
banarasi sarees
, matching blouse pieces come with saree itself. If this doesn't happen with some saree, get a blouse made with similar richness of the saree. For example, if your
embroidered saree
is made with chiffon fabric and has golden thread work, try to get a chiffon blouse having designs made with golden threads embroidery on sleeves and back.
Petticoat
It is yet another necessity that has to compulsorily accompany a saree. Always get the
petticoat
made from comfortable fabric that matches the texture and color of your saree. A petticoat made from satin can be worn with
silk sarees
but can play havoc when worn with
chiffon sarees
. Also, don't wear frill petticoats with casual sarees, especially when you go to office or conferences etc. Reserve these decorative petticoats for party wear.
Bindi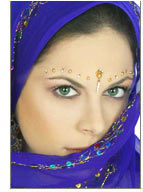 Bindis
are true representation of India and obviously of Indian sarees. You will find the market flooded with all types, sizes and shapes of bindis. Use plain round, oval or tilak bindis for accompanying your daily wear saris. Choose them according to your face cut. A round face or a square face will look good with bindis having some length. Long faces are apt for wearing round bindis. If your face is small, stick to small sized bindis. Bigger bindis are for big faces. Also match the color of your bindi with sari. However, some colors like red, maroon, black etc. look good with all sarees no matter what their color is. When wearing
festival sarees
or party wear sarees, use designer bindis. Brides should always go for bridal bindis with heavy embellishment matching with their
bridal wears
.
Women Jewellery
Women and jewelery sometimes seem to be synonymous terms.
Women jewellery
, in deed, gives grace to any outfit. Saree is no exception. However, wear jewelery according to occasion and your saree. If you wear plain
cotton sarees
and accessorize them with heavy gold jewelery for going to office, it will definitely be a great fashion mistake. If you wish to wear gold jeweleryanyway, wear light jewelery- a stud earring or a light dangle earring with simple gold chain and one or two gold bangles will really look decent.
Handloom sarees
also look good with some tribal jewelery. Beaded jewelery is another hot thing that goes with any casual wear. Reserve the heavy gold jewelery and precious/semi precious stone jewelery to be worn with festival and party sarees. Also remember to match your jewelery with the color and work of your saree. A saree with silver zari will look good with silver jewelery or diamond jewelery whereas golden zari will go with gold. Don't forget to wear matching bangles with any kind of sarees. In fact glass bangles of saree color can go with all types of sarees.
Hand Bags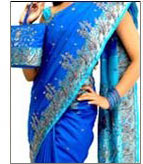 Women bags
are a necessity which has turned to be a great style statement. They are required to carry all your tit bits but they need not be boring. However, avoid designer bags embellished with beads, pearls, sequins etc. with your office going sarees. They are meant for parties, festivals and other such occasions. Rather take them as evening bags. Leather bags can go with any type of saree. You can use them in office as well as parties. Match the color of bags when wearing a party saree. However, this is not possible when you go for office- you can't change bags everyday! Get some leather bags in neutral colors like, black, brown, white, cherry color etc. that can go with any saree of whatever color. Jute bags and straw bags also look good with handloom sarees.
Ladies Sandals
One of the important accessories to be worn with sarees are the
ladies sandals
. Try to wear high heels with your party sarees. Always remember to wear sandals before starting to wrap your saree. This will make the length of saree according to your gained height due to the sandals. Never wear boots with sarees. They look very odd. If you can't wear heels, try to wear considerably high sandals, may be a platform heel or wedge heels. Designer chappals can be worn if you've got any health problem regarding your legs.