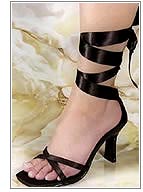 It is necessary to look the best from head to foot. Sandals are an important fashion accessory for any lady. It is as important as the dress, make-up and other accessories. Today, shoes represent distinct fashion. However, buying shoes is not an easy task when there is a variety of options to choose from. Comfort is the main criteria while selecting your fashionable footwear. Good fit gives you the necessary comfort and strong grip provides the required support.
Variety of Sandals
Depending on the occasion and purpose, variety of sandals are available starting from cheap to expensive:
For party wear, latest women shoes fashion is of high heels whether pencil or platform heel. There are also those feet flaunting sexy stripped open toe sandals.
For casual shoes for ladies, high heels should be avoided, specially for college goers and office goers whose job requires whole day standing, For that purpose, trendy floaters are just apt. Know yourself and accordingly pick up your footwear. If you are tom boyish cum sporty types, floaters and sneakers are the best option.
On special occasions, everybody wants to be the center of attraction. Women attire gaudy glittery wardrobe and sparkling gems to embellish their beauty. To complement that dazzling look, they wear the sexy women dance party shoes that invite attention. Stilletoes are preferred in part wear.
If you attire in typical Indian traditional style, like a simple salwar kameez, you can opt for Kohlapuri Chappals and Rajasthani Jutis or may just go in for a flat compact sandal that is simple and sober.
If you are bold and maintain a hip-hop fashion style, you can actually do a mix match of ethnic and trendy.
In night-time dance cum wedding parties, metallic sexy sandals look simply fabulous in shades of copper, bronze and golden. These colors add glow to your complexion. Among the hot metallic sandals the popular kinds are sexy Skimmers, Metallic Thongs, Strappy Metallic Wedges, Jeweled Metallic Sandals. These look simply fantastic.
Total look of anyone depends upon her wardrobe, accessories, makeup and footwear. All things should go hand in hand in glamorizing you.