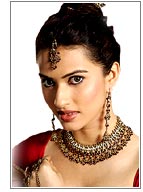 Jewellery is an essential fashion accessory without which an Indian woman looks incomplete in her attire. Indian jewellery in different styles, designs and techniques are popular all over the world. Jewellery styles of India differ from place to place. The traditional jewellery complements with Indian traditional sarees. But, nowadays, the fashion conscious women are also preferring fashion or costume jewellery. The look for today's woman is simple and soft when it comes to jewellery. "Fashion jewellery" which is more a fusion of aesthetic ideas from the east combined with the dash and style of the west.
Types of Jewellery
Gold jewellery
Silver jewellery
Beaded jewellery
Tribal jewellery
Metal jewellery
Precious and semi-precious stone jewellery
Wood jewellery
Oxidised jewellery and so on.
What one wears should be in harmony with her personality. The middle class woman is now matching her wardrobe with semi-precious stones of different colours to match the scheme of her clothes. Over the last few years branded jewellery has discreetly found its way into the jewel box of the contemporary woman. Brands like Tanishq, Oysterbay, Gili, De Beers and Carbon have made their way. For those who don't want to get caught in ethnic wear, inexpensive brands offering simple and delicate designs are available. Loop earrings are in after a long time now. A dozen, or may be two dozen, bangles in metal or glass match well with Indian outfits and give a touch of Indian style even to western outfits. Costume jewellery is inexpensive and savvy. Diamonds and platinum are favoured among the well to do with Nakshatra diamonds and international brand jewellery coming in.