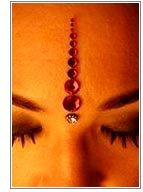 In the ancient times, Indian Bindi was worn as a tradition mark. Hindu married ladies applied it on their foreheads to symbolize marriage. It is believed that bindi acts as the third eye protecting them from bad evils. But, today it has become more of a fashion style. Bindi - a decorative enhancement of the forehead - is a powerul medium of body decoration, adding definition to the female face. It is the most eye catchy accessory, which draws immediate attention. Today young and old both wear traditional fashion bindi to adorn their beauty.
Bindis are two types:
Creative Bindis - The ones that you draw in your forehead.
Sticker Bindis - The ones that are available in the market.
Creative Bindis
Design your bindi using various shapes. Creative bindis are making a fashion statement. The shapes and symbols and colours of the bindi are co-ordinated with the garment. Liquid bindi packs that are readily available in the market, glitter tubes are used in a creative manner to design bindis with high fashion appeal. Various shapes and designs are like
Geometric shapes such as square, rectangle, rhombus, triangle.
Round or circle shape is the most common and favourite of married ladies.
You could sport a bindi with the symbol of Om.
Sun with wiry, petal-like rays.
Drawings of fishes, stars, tiny birds, flowers, cartoon characters like tweety, hearts, slogans and messages can all be made a personal style.
Sticker Bindis
Bindis available in the market are sticker bindis. These bindis come in a variety of shapes, colors, sizes and designs. Intricate designs include beadwork, handprints, meenakari work, kundan, and studded stones, pearls and diamonds. Apart from the usual traditional bindis, outstanding variety ranging from fancy bindis to designer bindis to bridal bindis are available.