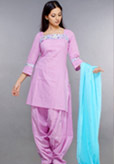 This extremely graceful Indian clothing calledsalwar kameez is a great thing that happened to Indian women. There is every thing in salwar kameez- comfort, style, choices and what not! Don't believe me? Just count its advantages!
Salwar kameez is comfortable.
'That we know, tell something new', this is what you must be saying! But howsoever times you listen this, it remains at the top rank of reasons for the popularity of salwar kameez. You need not to pull down your kameez to hide that bare back portion of yours. You need not to adjust your salwar every time you sit or stand, even when you sit on grounds, in temples etc. Above all, you need not worry about your panty lines! This is the greatness of
traditional salwar suit
.
Salwar kameez is as much a casual wear as it is a party wear.
Get a
silk salwar kameez
or just an
embroidered salwar suit
made of any dress material, they'll make a great party wear. And when you need a
casual wear salwar kameez
, just step into a shop or go online shopping- I swear you'll be flooded with choices!
Salwar kameez suits women of all ages.
Indian women are too shy to adopt new styles of clothing. The 'not so young' women still like traditional Indian sarees as their clothing and hesitate to wear any western wear though they long to wear them (it's a secret but known to all!). However, this originally Mughal attire –
paithani salwar kameez
has been received by them warm heartedly just because it suits the figure of any women. What else is the reason of wide availability of salwar suits from extra small size to extra large size or plus size salwar kameez?
They demand low maintenanece.
As compared to other Indian clothing like sarees and lehengas, salwar kameez needs easy handling. You don't have to starch them every time after washing like you do in case of cotton sarees. Neither do you have to take extra precautions for storing them like lehengas. What you need to do is to just buy or get a
tailored salwar kameez
, match it with a dupatta or stole and wear it, wash it, iron it and then again wear it. Most of them do not need to be dry cleaned either except when made of delicate textile like a
Georgette salwar kameez
or a chiffon salwar kameez.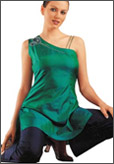 Salwar kameez can be experimented with.
If you get bored with simple
salwar kurta
, there is ample opportunity to explore the other styles of salwar kameez or even create a unique style of your own. If you don't like the salwars, you can go for
churidar kurta
. If you don't find them comfortable, get a free flowing
patiala salwar suit
or a
sharara salwar kameez
. If you don't want to spend more money buying new ones but want to look different everyday, mix and match- wear the kameez of one set with the salwar of another or get some neutral color salwars and churidars and match them with contrasting kurtas. You can even experiment with the length of kurtas. Make them long or short with the prevailing fashion or just because you want to wear it that way. If you don't find interest in all these, just go for
indo western salwar suits
and shed that duppatta or take it differently and enjoy the new you! Salwar kameez is that much versatile!