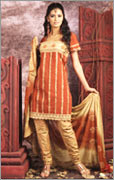 India is a country whose women find one or the other excuse for wearing attractive clothes. For that reason, weddings are really a great occasion when not only brides but everyone who attends the ceremony wear beautiful clothing. As far as bride is concerned, bridal wear differs from region to region. But marriage for a woman is not all about wearing
bridal sarees
or
bridal lehenga cholis
on the night of wedding, she has to participate in tens of rituals before and after marriage. An Indian bride wears different sarees and other clothings on these occasions. What the contemporary bride likes to wear most on these occasions is
salwar kameez
of different styles.
Here are some suggestions for the new brides about various salwar suit designs that she can wear according to the occasions.
Salwar Suit for Light Occasions:
As per the Indian traditions, the new bride is expected to wear heavily embellished dresses at all times till after sometimes of marriage. Heavily worked upon salwar suits like those with zari work or sequins and beads become a bit uncomfortable to manage on such occasions like mehendi, bhaat, sangeet etc. Embroidery is a great embellishment for any clothing. An
embroidered salwar suit
can be worn on these occasions. Heavily embroidered suits with colorful threads give a rich look to the outfit without making it too heavy to be managed.
Salwar Suit for Visiting Relatives:
Every bride in India has to visit the homes of close relatives after marriage. Not only relatives but friends also invite the newly wed couple to dinners and lunch. On such occasions, it becomes quite difficult for a bride, who is not used to wearing sarees, to drape heavy sarees each time. Here comes the salwar suits to her rescue. She can wear a
traditional salwar suit
with heavy work when going to see a relative who is very older to her. On other occasions when she goes to see relatives and friends of her age, she can very well wear a designer salwar suit. This can be in rich fabrics to give her the feel of a new bride like a
silk salwar kameez
or a
satin salwar kameez
.
Salwar Suit for Honeymoon: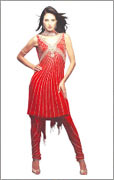 It is really a special time for any woman when she wish to look the most beautiful woman in all the ways. Brides, in fact, get
custom or tailored salwar kameez
in latest designs for their honeymoon trips so that they can be comfortable in their whole journey(in bus, train or on flight). Although the new age brides like to wear
skirts and shirts
and such other comfortable dresses during their visits to many places at their honeymoon destination, they also like to wear modern salwar kameez on such occasion. The
Indo-western salwar suit
is just perfect for giving that blend of traditional and modern feel. For the more stylish brides who want their new husbands to see them only, a
bollywood suit
can do all the magic for them. And a
designer salwar suit
will be the perfect outfit for that romantic candle light dinner!