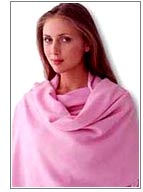 A shawl is an extremely simple item of clothing, loosely worn over the shoulders, upper body and arms, sometimes also over the head. It is usually a rectangular piece of cloth, often folded to make a triangle, but can also be triangular in shape to begin with. A shawl or a stole or a scarve is a gorgeous piece of a woman's attire and a real piece of art at the same time. A stole or a shawl or a scarve embellish a saree, a salwar kameez, trouser suit, or skirts. It is a utilitarian and decorative part of any attire. Shawls are used in order to keep warm, to complement a costume, and for symbolic reasons.
Fashionable shawls can make any occasion special. Subtle, sophisticated and incredibly beautiful, these fashion shawls are available in unique designs and fascinating patterns. Knitted shawls, stoles and scarves for women have made a special place for themselves among the youth. You can complement them with almost all attire styles. They come up in different fabrics like
Silk
Pashmina
Crochet
Cashmere
Wool

Velvet
Cotton
Satin
Chiffon
Rayon
Nylon
Georgette
Pashmina occupies a commanding position owing to its coziness, softness and comfort. Animal and floral prints using beads are in vogue. Splendid styles include Knitted, Vintage, Hand woven, Hand printed, Handmade, Embroidered and Machine printed.