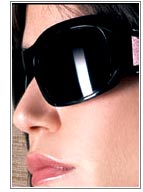 Fashion has evolved so much in Indian Fashion history that today elegant eye wear, which was not common earlier, covers an essential accessory for urban Indian women. Today, women prefers to wear a glass not only as a vision correction tool but also as a fashionable accessory. In sunglasses, try out cool hip-hop style soothing bright shades like ocean blue or sea green.
A diverse variety of designer woman eyewear is available ranging from soft designer eyeglass frames to antique and special effects contact lenses, as a good alternative to eyeglasses. Protective woman eyewear includes stylish cosmetic sunglasses to protect eyes from the harmful effects of ultra violet rays.
For those with a poor eyesight and eyeglasses are meant to be worn all the time, latest frame designs are available. You can select any eye frame that suits you. However, choosing women's eyeglass frames, contact lens & designer sunglasses is is not an easy task as the reservoir is very vast.
Multiple varieties of Eye Glass
Soft Plastic Eyeglass/Frames
Distance or Reading Glasses
Transition/Polarized Lenses
Rimless Frame
Photo chromatic
Bifocal frame and
Anti-Reflective Coating frames and so on.
For people who do not wish to wear spectacles, there is an exclusive range of contact lenses, the popular ones being daily wear, disposable and toric lenses. The market is flooded with distinct types of lenses. Bold and beautiful often pick up smarty cum trendy coloured lenses to change their eye color. Emerald Green, blue and light brown shades are the most popular colors used by Indian women. Designer woman sunglasses are in vogue. They represent attitude, personality and define fashion statement. The fashion of classic trendy eyewear will never fade.