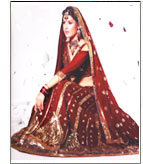 The Indian bride is the center of attraction in all the Indian weddings. As per traditions, the brides of India wear richly worked upon
bridal wear
. Although bridal wears of
Indian regions
differ, the most famous and exclusive wedding wear remains the beautiful and royal
lehengas
. It almost becomes a necessity for the Indian brides to wear heavy and unique wedding dress on their big day. However, with a little care and judicious selection, they can spare them from all the hassles of managing the heavy wedding outfit and keep themselves comfortable in all seasons weddings.
This is possible by selecting the right bridal fabric for the bridal lehengas. How can you select the right fabric? Here are some tips on your bridal lehenga fabrics to help you out!
If yours is a summer wedding or you are not habitual of wearing lehengas, avoid wearing such bridal dress fabric that will make you feel uncomfortable with rising temperature. Use some light fabrics like bridal chiffon fabric or Georgette fabric. Chiffon is a very elegant sheer fabric which has a graceful drape. Georgette has a grainy sheer texture. However, it is not as soft and lustrous as chiffon but it drapes well and is easy to maintain. In a chiffon lehenga as well as in Georgette lehenga, you will be all comfortable to perform the wedding rituals.
The royal silk lehenga is the best for weddings to be held in the winter season. It is really elegant. No other fabric drapes on the body in the same way as silk does. However, if you find them to be a bit expensive, you can go for some special occasion fabric like satin. A satin lehenga will feel smooth against your skin and will prove to be a cheap bridal lehnga as compared to the one made from silk fabric.

If you want to bring a crispy feel in your wedding dress, go for an organza lehenga. Organza has a stiff drape that falls away from the body in wide cones. Therefore choose this fabric only if you are slim. Overweight women can look even more heavier in this crispy fabric.
Plus size women should always choose some fabric that has a nice drape and which tends to cling to the body. As such, a wedding lehenga made from such fabrics as silk, chiffon or Georgette is best for them.
A crepe lehenga will also give a beautiful drape that falls into soft, wide flares. However it is an expensive and luxurious fabric with a dull sheen which also tends to shrink a lot. If you can afford and are ready to spend a good amount of money, you can go for crepe wedding lehenga too.
When you are ready to spend a fortune on your 'one time bridal dress', you can even buy a lehenga made of brocade which is a rich elegant fabric woven on a jacquard loom and is usually stiff. It is a historically royal fabric which was worn by the queens of bygone era. However, you should also be used to of wearing such heavy dresses before buying a brocade lehnga.
A net lehenga will give a glamorous look to your wedding as net is a very fancy fabric. You can choose some elegant fabric like chiffon, Georgette or silk as its lining for making it a really beautiful wedding dress.
Last but not least, if your skin is allergic to synthetic fabrics, try to make the lehnga with some skin friendly fabric. Go for organic silk or other such fabrics. Cotton lehenga made with fine and soft cotton with sheen can also do provided you decorate it with some special fabrics and trims like net and laces etc. You can even have a net lehenga with a lining of fine soft cotton. The aim should be ultimate comfort so that the bride too can enjoy her own wedding!