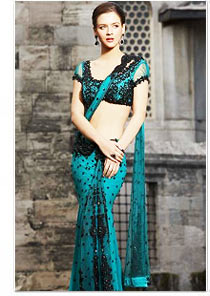 Indian woman has always been fashionable though in simplest forms. She wears fabulous
Indian sarees
but remains all modest in this ever sensual dress. However, the recent working woman and the very busy moms find it difficult to devote the time it takes to wear sarees even if they like to wear it on a daily basis. The saree designers and manufacturers are smart enough to know what exactly their clients need. Thus, they introduced the
pre-stitched sarees
or the popularly famous ready made sarees.
How Pre- Stiched Sarees are Getting Popular?
Today women do not discard sarees because they find it 'outdated' but because it takes longer to wear them. They don't have enough time while going to office as well as managing home. So, they have whole heartedly accepted these ready to wear sarees. Check out who all are wearing these pre stitched sarees!
First of all, women who have shortage of time yet love to wear saree are buying pre stitched sarees. It is far more easier for these women to just slip in the pre stitched party wear sarees or festival sarees after coming from office so that they can reach the party in time or follow the festival rituals with ease.
Women who want to be traditionally fashionable. It means women who want to wear traditional Indian sarees and also want to have contemporary looks. Ready to wear saree is fast getting popular as party sarees for this one reason.

Those who think that their body type doesn't allow them to wear a saree and they look odd in it. These women can always get lehengas stitched to suit their figure and get customized or tailored salwar kameez and look great in them. However, when it comes to saree, they don't know how to wear sarees in a manner which will look good on their body type? Now its easier for them too- they can custom made a saree and get it pre stitched with cuts and drape effects that can bring out the plus points and hide their body flaws.
New Brides who are not habitual of carrying heavy sarees but anyhow have to wear them for performing rituals or just to keep with traditions. They find pre stitched designer sarees to be convenient as well as trendy- just a perfect blend needed in a bridal wear.
Women from other countries who do not know the basics of draping a saree but are fascinated towards this very beautiful traditional Indian women clothing.
These were only some generalized reasons for the popularity of pre-stitched sarees. May be someone somewhere is wearing these ready made, sometimes called automatic sarees, for some very personal individual needs! Pre stitched sarees, indeed, have changed the fashion trends of India, particularly of fashion sarees.