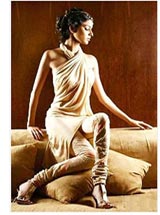 New generation fashon designers know the obsession of Indian women with sarees. However, they are also a little worried about young women of India who just make a distance from sarees due to the so called troublesome techniques of wearing saree. There is one more issue- women from western countries too seem to have been mesmerized by the charm of
Indian sarees
. They too want to wear sarees. If you don't believe, just look at
Angelina Jolie and others wearing a saree!
Why am I telling all this to you? Because I want you all fashion conscious people to know that the
top fashion designers of India
have set their eyes to make sari the most desirable clothing of Indian as well as other women from all over the world. They are inventing new saree designs to go with the modern urban lifestyle. Just have a look at these new sarees or more correctly said, the 'neo sarees' and know how latest sarees are modified without compromising with the basic unstitched spirit of the traditional sarees.
Pyjama Sarees- Designer Anamika Khanna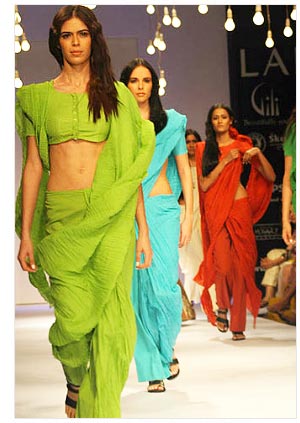 One of the very creative fashion designers, Anamika Khanna, recently showcased her pyjama sarees at the Lakme fashion week 2009. This new saree design has crushed muslin pallus and the
petticoats
have been replaced with pajamas. So, now if you said that you experience difficulty in walking with the saree tied all around your petticoat, no one's going to take it! Just wear a pyjama saree and walk as comfortably as you walk in trousers.
Saree Gown- Designer Wendell Rodricks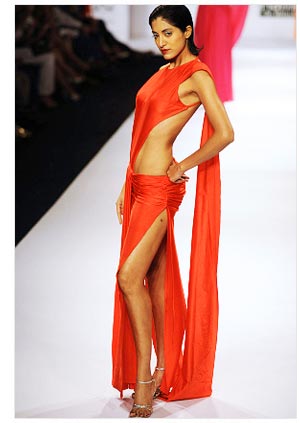 Yet another very talented fashion designer, Wendell Rodricks, has introduced the sari gown. During the
Wills Lifestyle India Fashion Week (WIFW)
, his backless red sari gown was a rocking hit! It looked sexy and trendy on model Jesse Randhawa who walked the ramp wearing it. According to Rodricks, "they are extremely comfortable and designed to stay in place no matter what." The built-in choli and split pallu of saree gown has been so liked by the celebrity ladies that they have flooded the designer with its request. Don't be surprized if this sari gown becomes the
latest bollywood fashion
in a few days!
Jersey Saree- Designer Wendell Rodricks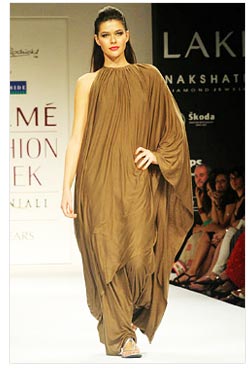 Wendell Rodricks is really up to something! Not satisfied with only one- he has designed yet another new saree- the jersey saree. He displayed this fabulous saree design at the Lakme Fashion Week. Jersey is fast becoming the number one choice of young generation due to its breezy, sexy and casual looks. What impresses the young the most is that jersey could go with all- tops, tunics, pencil skirts, dresses- and now Rodricks has modified it to be a saree too! This jersey saree has a built-in choli and the pallu is split in one section, which gathers to a halterneck. The other half loops into a 'kimono sleeve pallu'. It really looks trendy!
Jeans and Saree- Designer Nida Mahmood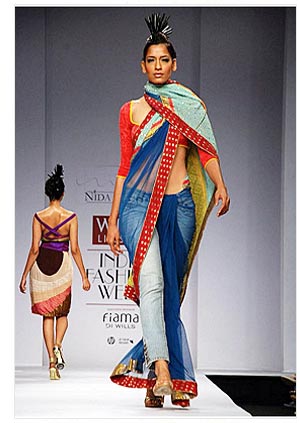 This is a deadly combination introduced by the youngg innovative fashion designer Nida Mahmood- Jeans with saree! Jeans is the most sought after and the popular womens western wear. Saree is the purest of Indian womens wear. So, when east meets west, the result is going to be a big hit indeed. In fact, what Nida displayed in the Wills Lifestyle India Fashion Week (WIFW), is the net, georgettes and
chiffon sarees
draped on jeans in a trendy manner. The saree is draped without its initial round- or the traditional tucking in of saree's one end all around the petticoat. The sari draping starts with making pleats and tucking them in front portion of the jeans and then making a pallu out of the other end of the saree. The
saree blouse designs
remain the same as worn with
traditional Indian sarees
. And yes, it's important to carry the outfit with right accessories and look, as told by Nida herself! Youngsters will definitely like to follow this trend for any casual party.
Chhotu Sarees- Designer Sabyasachi Mukherjee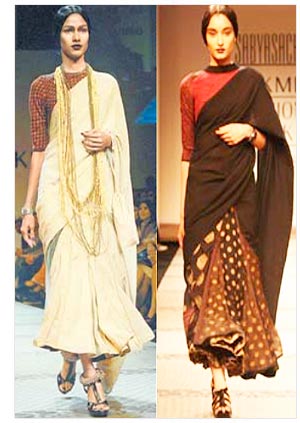 Yet another innovative new saree design has been introduced by the talented fashion designer Sabyasachi Mukherjee- the Chhotu Sarees. These short sarees- that are short by six inches than the traditional lenghth of a saree- are inspired by the tribal women clothing. With a length that doesn't touch the feet and thus is comfortable to walk with, this chhotu saree can prove to be trendy women's office wear. The chhotu saris are
handloom sarees
made by the rural craftsmen to whom goes a part of profit from sale of these sarees. Therefore, these sarees well go with todays youngsters who are trendy yet socially aware!
These were only some of the new saree designs introduced by some of the fashion designers. With a whole lot of taleneted fashion designers in India, it is expected that more neo sarees will be invented for giving comfort and style to today's busy young women of India. Just watch out for them in the future fashion shows!