15 June 2010- Indian fashion is incomplete without sarees. In fact, sari is the basic fashion concept of India since ages. It is, therefore, obvious that each and every woman here has got a treasure of sarees (from very traditional to ultra mod women- all of them have sarees in their wardrobe!) And the number of sarees keep on increasing with the years. As such, Indian women have many old sarees too that they do not wear. However, an old saree can not be easily discarded due to their intact condition. If you are among those women who have got bored with some of their
sarees
and want to know about how to use old sarees then this is the right platform where you have reached. This article will tell you innovative ways for using your old sarees in form of recycled clothing as well as recycled gifts!
Use Old Sarees for Making Recycled Clothes
Indian women have been doing this since ages- they are all using old sarees for making recycled clothing like salwar kameez, baby clothes or gowns and dresses! Here are some tips for making recycled clothing from old sarees.
Silk Saree Dresses-
Look at the girl in the image wearing a breezy dress made with an old silk saree. This looks absolutely fabulous. For making such saree dress trendy, use adjustable straps and elastics to make it stylish as well as comfortable. You can also buy this
silk sari dress
Recycled Baby Clothes-
Use your old cotton sarees to make recycled clothing for babies. As cotton is natural and skin friendly fabric (it also gets softer with time), babies will be very comfortable wearing these recycled clothes. This also makes a fantastic gift for new born babies. Just ensure to wash and clean your old saree properly to avoid any health hazard to baby who would wear this recycled gift.
Saree Skirt and Blouse-
If you have a faded old saree, you can cut the faded part and make skirt from it. The part that has not faded can be used to make another skirt or can be used with other fabric to make a matching blouse for the saree skirt.
Salwar Kameez from Old Saree-
Use your old Banarasi sarees with heavily worked borders for making festival salwar kameez. Borders can be used for embellishing neck designs and sleeves. Old embroidered sarees can also be used to make fabulous churidar kameez designs.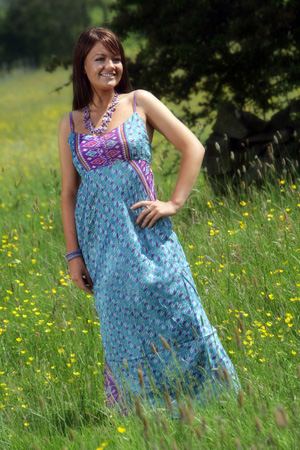 Use Old Sarees for Making Recycled Gifts
In this era when everyone is trying best to save earth in whatever humble ways they can, you too can make a difference by giving recycled gifts only to your family and friends. Your old sarees too can help you in this task. Just read on these fabulous ideas for making recycled gifts by using old sarees.
Cushion Cover-
Use your old saree for making beautiful cushion covers. You can use more than one old saree for making unique patterns for these cushion covers. Present these recycled gifts to your friends and they will be more than happy to decorate their homes with it.
Foot Mat-
Foot mats made with old sarees are also a unique recycled gift that you can give to yourself or to your friends. It is also easy to make. To make recycled foot mat with an old saree, cut it into long strips. Braid these strips as long thread and fold them in circular motion. Stitch the ends of the mat and your saree foot mat is ready to be used. In fact, you can even make table mats with this method to present as gift if you don't want to gift a foot mat.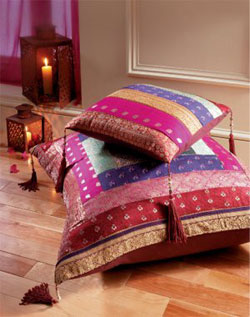 Silk Scarves-
You can make beautiful scarves from old sarees. This is perhaps the easiest thing that you can do to recycle your sarees. Just cut and hem the pieces of sarees in scarf measurement of your choice. Not only silk sarees, Georgette sarees as well as chiffon sarees can also be used for making scarves. If you fear that you can not use these scarves as recycled gifts for different friends because they all will be similar- you can do them differently- each one of them! Use laces, crocheting, embroidery designs, decorative patchwork and other such embellishing techniques to make them all unique gifts!
These were only few ideas on how to use old sarees for making recycled gifts. Some of such more ideas for using old sarees include making sari curtains, pillow covers from pallu part, harem pants, quilts and bed spreads, table covers, hand bags etc. Just think some more and you'll be able to come up with innumerable such ideas. After all, saree has the benefit of being a six yard long cloth that can be used in a variety of ways and not just for recycled clothing and gifts!
Read
Green Clothing for Indian Women- Eco Friendly Fashion Trends