One of the very popular handmade clothes of India are the patchwork skirts. These pattern skirts are built up with different colored fabric patches in various shapes- straight sided, basic geometric shapes and even random shapes. Patchwork tops and shirts can also be found here though women prefer skirts over patchwork shirts. What is interesting is that these
Indian skirts and shirts
have unique characteristics of the region where they originated. So, a patchwork skirt made in Rajasthan will have different looks than the banjara skirts made in Gujarat. Have a look at various patchwork skirts of India- some that have originated in the country itself and others that have been adapted from other regions of the world.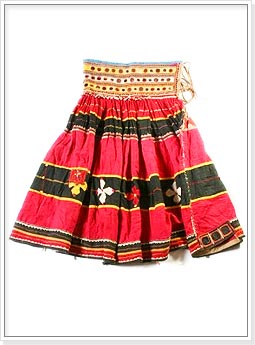 Banjara Gypsy Skirt
This is a gypsy skirt from the Banjara Tribe in India. These handmade
gypsy/banjara skirts
, apart form patchwork, are intricately detailed with embroidery, mirrors, and bead work. A tie closure is accented with beaded or embroidered tassels to give it a perfect fit. Many of these skirts are made from vintage fabric. However, the skirts made from other fabrics can also be found.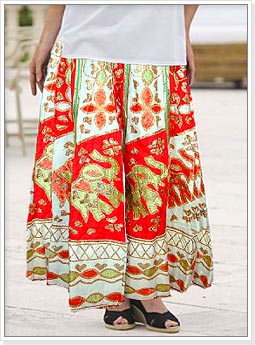 Patchwork Ethnic Skirt
This is an
ethnic ladies long skirt
- precisely an ethnic skirt in antique cloth. It has delicate patchwork with embroidery and exclusive heavy golden color tikka and gotta work all over the handmade cloth. This is a true delight that can be worn on any occasion!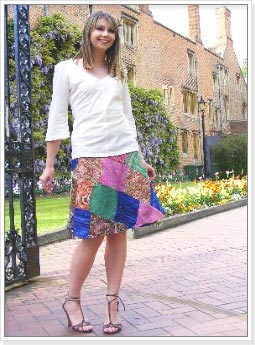 Jaipuri Patchwork Skirt
This is an
ethnic ladies long skirt
Although
Jaipuri skirts
are mostly long skirts, this particular patchwork skirt from Rajasthan is a short
wrap-around skirt
. These wraparound skirts mostly come with a silk lining so that you can reverse them and wear them with the lining on the outside. That too looks cool!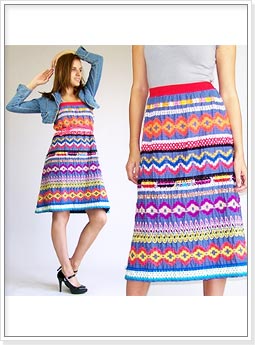 Bohemian Skirt
This is a unique vintage skirt- a bohemian patchwork skirt in blue cotton with contrast color patchwork. The multicolor patterns at once make the personality of the wearer vibrant. What more, the model here has also worn it as a tube dress or sundress- now that is called the true value of money!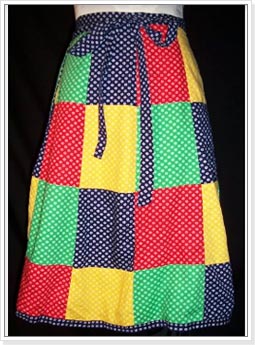 Patchwork Hippie Skirt
Yet another wrap around patchwork skirt, this time in bright yellow, red, green and blue patches with tiny prints on them. Do you think anyone can stay home after wearing this pretty skirt. She is bound to step out for the world to see her colorful beauty dress!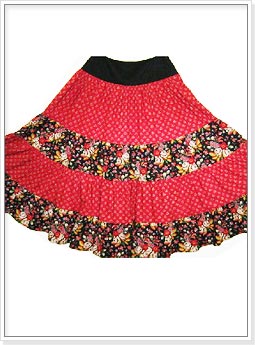 Gypsy Skirt
And yet another gypsy skirt with full flair. This 'so common yet beautiful' gypsy skirt in black and red floral print cotton patches is sure very comfortable to wear. Why? Because
cotton skirts and shirts
are always good, they let your skin breathe!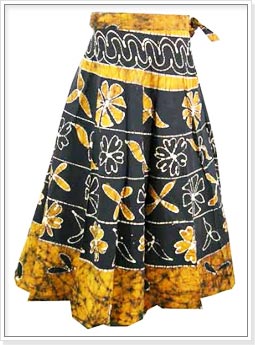 Ethnic Batik Skirt
This is also an ethnic wrap around batik print long skirt in cotton. This batik skirt in black color becomes all the more beautiful with yellow and silver flower patterns over the body of the skirt. The broad border at the hem in batik print really make it a beautiful piece of art!