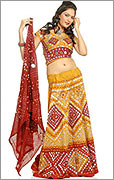 Festive season has finally arrived! Although everyone waits for all the festivals starting from Ganesh Chaturthi, followed by Durga Navratri Puja, Karwa Chauth, Diwali and then Bhai dooj, yet women especially look forward to them for the grand opportunity of wearing fabulous dresses ! With Navratri here, we'll today talk of the traditional yet trendy women clothing of India – the
Festival Wear Ghagra Choli-
popularly called chaniya choli.
The Chaniya Choli
The Gujarati Chaniya Choli is no more just the passion of Gujarat and Rajasthan only. Women from all over India adore this 'so graceful attire' which brings out their true feminity along with the comfort for performing at 'Daandiya Raas'. Chaniya, one of the many forms of lehnga, comes in all varieties- from heavily worked to lightweight. Its popular traditional designs include hand work, embroidery, abla work etc. Choli is the famous blouse with different designs, styles and cuts. The hot cholis of today include the backless cholis, criss-crossed laced cholis, and designer cholis among others. Apart from the ghagra and choli, there is the dupatta, chooni or odhni with heavy work of kodi and abla. Women wear it in different styles but when it comes to dancing their nights away in devotion to Maa durga, they ensure that it is properly tucked into their ghagra so that they can just go swirls with dandiya sticks.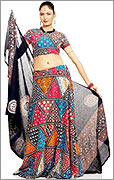 What to Look For in Chaniya Choli?
The features that will bring most of the charm to modern chaniya choli include:
Ethnic mirrorwork embroidery or some patchwork.
Nine metres wide flare of the chaniya or the ghagra.
If the chaniya is umbrella shaped, there's no comparison.
Choli can be short and fitted or long one that extends below the waist in a loose blouse fashion.
If you want something that is trendy, go for the kurti or kanjri style of choli with mirrorwork and a backless tie-up look.
The 9 traditional Colors of Navratri
Just note down the nine colors of the nine nights of Navratri, in case you wish to wear them. However, there's no binding- you can go for any color- that's your choice! The 9 colors of Navaratri include- Parrot Green, Orange, Yellow, Sky Blue, Pink, Grey, Green, Ink blue and Royal blue. And yes there's the tenth color too- the color of Dusshera- which is the favorite color of Indian woman, the Red color.