20 July 2010- Salwar kameez today is considered for the formal wearing also because of its unique pattern, style and comfort. It is so stitched that salwar kameez acquires the structure of every figure exactly and perfectly that no other dress can do. Perfect salwar kameez designs for fat women can make you look slimmer and helps you to hide your flabs. So the dream of looking slim can come true with the plus size salwar kameez designs.
Although there is an option of buying the ready made salwar kameez designs for fat women but customization of it can also be done as per the requirement. Also if you do not like the fabric, embroidery, style and design of the ready made salwar kameez then you can go with the customized one. Most of the women prefer customized salwar kameez designs today.
Latest Salwar Kameez Designs for Fat Women
Keep the Length of the Kameez Short
Now if you come in the category of fat women and longing to look slim in salwar kameez then make sure that the length of the kameez is above your knee. This will give you a slimmer look.
Short Salwar Kameez
Designs for Fat Women
Short Kameez for Plus Size Women
Dark Color Salwar Kameez Will Help you to Look Slim
Color plays an important role in the way you will look. Fat women can wear the dark color salwar kameez as these colors will make you look slim. It is so astonishing that how the black color makes the wearer look so slim! It is the magical color for fat women. Further an embroidery on the neck, sleeves or edges may further increase slimming affect on you. You can try this salwar kameez for fat women.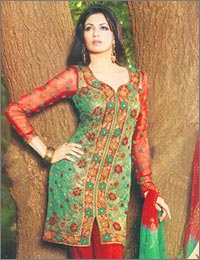 Embroidered Salwar Kameez
Buy Thin Fabric
Do not go with the thick fabric as it will give fluffiness and make you look fat. Thin fabric is for the fat women as it will make you look slimmer as it will acquire the shape of your body without giving extra bulges. Moreover if your salwar kameez has the long sleeves it will give you a slimmer look. Also you can have different designs that will grab the attention of the person on it rather than your flab.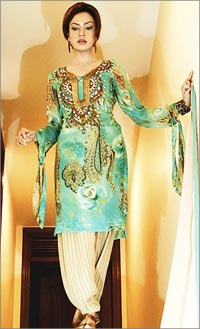 Thin Fabric Salwar Kameez for Fat Women
Empire Style
Empire style salwar kameez is yet another option for the fat woman to look slim. You can have hight empire waist kameez and full empire waist kameez. Depending upon the choice of a wearer she can either go with the sleeveless empire salwar kameez or transparent salwar kameez. Irrespective of all this, empire style salwar kameez for fat women work because of its flare and really gives a dandifying look.