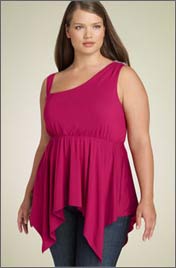 Merry making is not too far away. Christmas is the next festival- for being happy, for enjoying holidays, for being with family and for looking gorgeous! It applies to all- even to the chubby women who think fashionable clothes are a 'no no' for them. Just a little thoughtfulness and here you are- with a complete different (and of course stunning!)
look on this Christmas- in spite of your plus size!
So, why wait? Read on these tips for dressing up in style, this Christmas. You'll love yourself when you look at the mirror. And just don't finish of with reading. Act right now and buy or arrange for the right plus size apparel so that you may be fully furnished on 25th December with your killer looks!
Choose a Skirt with Caution-
Give yourself a graceful look with some sensational skirts. Just remember, your skirt should not be too short. It should at least have such a length that can cover your knees properly. If possible choose a black skirt. If not, any dark color will do. To have an altogether different look, you can even buy ethnic long
Indian skirt and shirts.
They are really trendy plus size clothing
Keep the Top Selection Your Top Priority-
Most of the chubby women have to wear a top that can camouflage their heavy bust. Don't select anything that is too tight or too lose. Tight ones will make your body flesh seen at different odd places and the lose ones will make you look more heavier than you are. Try something that has a shape. This shape can be brought through different cuts or styles (like empire cut). It is very difficult to find such types of tops. You can keep the
Indian Ladies Kurtis or short kurtas
on your list if you do not find anything worthwhile.
Indian kurtis have just the perfect length to hide the body flaws, particularly the belly fat. These short shirt type clothing have different neck styles that bring out the slenderness of the neck and shoulder (even if they are chubby). If you are a little more chubbier then you can select them in darker shades. You'll look gorgeous in them!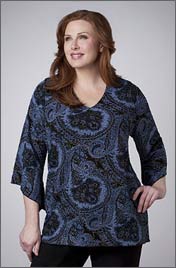 Thread Art for Hiding Your Chubbiness-
When you'll see then only you'll believe. Embroidery can give you slimmer look! Its true! Get your skirts and tops embroidered with special effects. You can give a design having straight lines at both the sides of skirt or give the illusion of curvier shape in your tops. There is no other better idea of having a perfect figure look without cutting or mending your dresses!
Pay Attention to your Fashion Accessories Too-
Choose some interesting, crazy, or classics earrings. Its better if they are dangle earrings. This will cut off the chubby looks of your cheeks and make you look a little slimmer. A beautiful pair of big sized hoops can also play magic with your looks! Apart from,
fashion accessories
also pay attention to your hairstyle. A bobcut will give an additional exposure to your hoops and will also cover the most of your fleshy face. You can even pull back your hair if you wear earrings that are studs or drops.
If you are not too irritated with an extra accessory then carrying long scarves with your outfit can give you a slimmer look. Adjust them in such a way that they prevent the continuity of fleshy appearance. Let them lie carelessly on one of your shoulders or pull them from behind of your neck so that they lie at the front with the two ends on your belly till where your skirt starts! Or just think about some innovative ways to use the scarves to your advantage according to your body type.