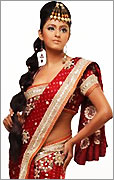 Although fashion blogs, especially, the women fashion blogs are browsed mostly by women, but on some festivals and special occasions, these are searched for by men too. Reason? As always, they can't understand what to give as a gift to their loved ones. Karwa Chauth is one such occasion where the married woman is blessed with all attention and pampering. On this most romantic Hindu festival, married women observe a day-long fast (they don't even drink water) for the long life of their husband. And as the Indian husband is famous for being the 'most caring husband' from all over the world, he expresses his gratitude by pampering his wife and presenting her a memorable gift.
Gift Her a Red Traditional Saree
No matter whether your wife is a new bride or an old companion of your life journey, she will love a red festival
saree
. This red saree is the most favorite of any Indian woman so you will not have to face difficulties buying such a saree. Get one which is heavily embroidered and embellished with zari work. After all, karwa chauth is the festival of marital bliss!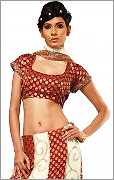 Make Her More Beautiful in Lehnga Choli
Lehnga Choli is the most preferred attire of any Indian festival, leave aside Karwa Chauth. Gift her a sumptuous
designer ghagra choli
in some exqusite fabric like brocade, satin or Georgette. She'll love it and cherish it for her life.
Go Trendy – Buy Her a Designer Salwar Kameez
Although red saree is associated with the basic spirit of Karwa Chauth but if you feel that you wife is not so comfortable in saree, you can even gift her a trendy festival wear
salwar kameez
made specially for the occasion. You will find many, once you visit a shop. However, ensure that it is in red color or have something red in it- after all red is the color of Karwa Chauth!
» Accentuate your beauty with exclusive collection of
karwachauth Jewelry collection
!