29 October, 2010-
For trendy women of today, size hardly matters.
There were times when Indian plus size women had limited choices in stitched clothings in stores and they used to feel very bad as there was great scarcity for the min many things and this plus size used to be considered a big blow to their personality. Then they had to go to their tailors for stitching a dress and still they couldnt get the kind of fit and style they wanted for themselves.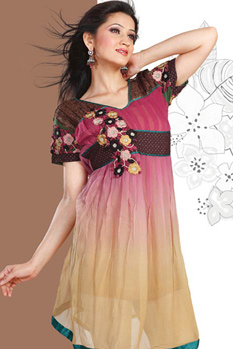 But this is an old trend now!. Today scenario is just opposite. The concept of plus size clothing has gained a popularity and many things have changed since then. Today fashion designers understand the problem of plus size women and have introduced the niche segment to cater to this plus size clothings. Today looking stylish, chic and smart is not just limited to slim, petite woman. Today plus size clothings and dress material comes in such wide choices that even a plus size women looks fashionable and stylish. Salwar suit, Lehenga Choli, Indian Skirts are the main Indian outfits that revolutionised and you can get wide slection in this catering the need of every woman.
In Indian ethnic attire, lengha choli is the most hot pick for any Indian occassion. It is highly welcomed by women of India, whether it's a wedding or going to a cultural event or for any festival or for a theme party etc.
You can now get this plus size lenghas in all colors i.e. red, pink, black, purple, blue, yellow, green, maroon etc.. Also these Plus size lehnga come in many styles like chaniya choli lehenga, ghagra, fish cut, bridal lehenga, A-Line lengha, Straight Cut lehnga, designer lehenga choli and many more. Similarly designs in plus size lehenga choli are also ample as though they come decking with beads, embroidery, threads, appliqué etc. Plus size women also have versatility with respect to colors, styles and designs in lengha choli.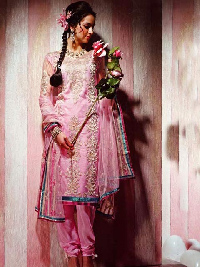 Even technology has boosted this plus size concept to a new dimension in India. The biggest advantage of technology savvy is that more & more people have started using the option of online shopping. This feature has made things available even from a workstation. Shopping for items no longer remains a tedious task. As far as purchasing dress material is concerned, even this issue has been well catered through online shopping. Size plus women can now also experiment with flowy Indian dress materials like crepe, chiffon, georgette which are more appropriate for size plus women. They can go for these unstitched Indian fabrics and can opt for custom tailoring on these online stores in order to meet their requirement.
Due to increasing demand of Indian dress materials & clothings for size plus women, many Indian websites are coming up with designer Indian dress materials & Indian Clothing.
Online Shopping Store for Size Plus Women.
» Shop from online indo western suits, plus size salwar kameez at Utsav Sarees
» Diwali Lehenga Choli at Bride-pride.com
» Plus Size Choli Skirts at Kaneesha