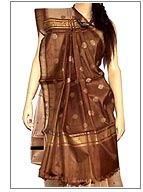 The state of Madhya Pradesh is also famous for Tussar silk sarees. The look of the Tussar Sari, plain or coloured, is so rich that it is a favourite choice for formal occasions.
Design and Fabric
Tussar silk sarees are considered auspicious for marriages, religious ceremonies and other important functions. Tussar silk is a special variety of silk, as the cocoons are raised on Arjun and Sal trees. They come in a range of colors. The motifs and the patterns continuously refer to nature and daily life and they are carefully chosen to enhance the beauty of gorgeous Tussar silk sari.
With time, the range of colour and motifs in the sarees have increased dramatically. The traditional block-printed tussar sarees are very unique and very ethnic. The Tussar sarees radiate a natural brilliance due to the fibre used. In some Tussar silk sarees, brocade work is done with Zari to give them an ornate look. In some, the pallus and borders of the sari is woven with thread, coloured in the Ikat style to give a designer touch.